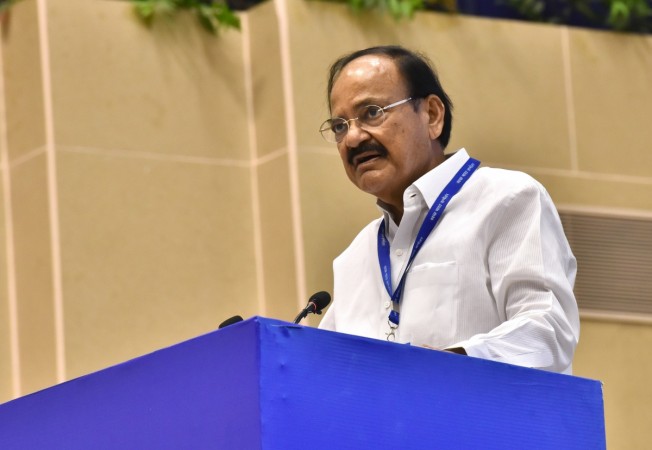 Information and Broadcasting Minister M Venkaiah Naidu said on Sunday said that cinema can be considered a religion without boundaries, but films with vulgar content were "hurting the society." He urged filmmakers to take a cue from old Hindi films and make films that conveyed a message to society and preserved "our values and traditions."
"Over 2,000 films are produced annually in the country, the largest in the world. Though it is visually-based, it has a universal language and engages the audience and raises them beyond social and geographical limitations," Naidu said, while speaking at the 47th International Film Festival of India (IFFI) at Goa on Sunday.
He added: "Cinema is a work of art and there has to be a takeaway for the audience who have given two hours for watching it. Besides entertainment, cinema can send a message to protect and preserve our culture and traditions. However, realism and social issues have taken a backseat in our films and this calls for immediate intervention to balance entertainment and engineering social change."
Naidu also said that filmmakers should not just make commercial movies but should also, through their films, promote gender justice, respect of elders, creativity and humanism. He added that it wasn't his intention to give advice, because "if you go by the advice of the government and make cinema you will never succeed... Cinema has to be cinema but the cinema also must have a message. (That is what) I am trying to say."
He advised filmmakers to take a cue from old Hindi films that "ran for years because of actors and their expressions" without taking the help of "violence" or "vulgarity."
"Our cinema needs to connect two R's— Reason and Reality," Naidu said adding that filmmakers today were "becoming too lazy and the (film) content is bearing the consequence."
"Without touching heroine you can create romance. You have the capacity to express. The expression need not be by words it can be through eyes, nose and lips, looks...If our looks are good, the way you convey the message it would be very romantic," the I&B minister said, adding that filmmakers have the power to influence society.
Naidu said that cinema had emerged as a powerful medium in a country dealing with so many social problems because of which Indian cinema "needs to have a larger social responsibility." Cinema promotes ideas that "take root and manifest themselves consciously or otherwise in the relaxing environment of cinema halls or homes."
Naidu hailed films like "Three Idiots", "PK", "Oye Lucky Lucky Oye", "Lage Raho Munnabhai", "Munnabhai MBBS", "No One Killed Jessica" as those that sent out a message to the society.