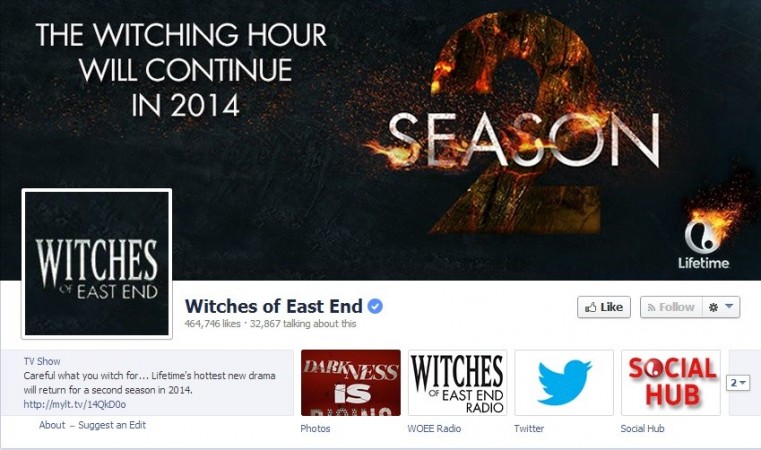 News about the second season of "Witches of East End" has been scarce since the first season wrapped up late last year with some characters dead and some injured. But on Monday, Lifetime released a promo of the upcoming season and it appears to be dark now that the Beauchamp girls as well as the Gardiner boys have released the powers hidden within them.
The official promo states that darkness is rising. "This Summer, the dawn of a dark new day is upon us," the description reads, and speculations are rife that the upcoming season will be set in Asgard.
The season one finale episode saw Ingrid opening the door to Asgard and a figure walking out of it. Although the identity of the person was not revealed, he too is featured in the promo in the form of a hooded figure.
It is believed that the hooded figure is Frederick, who is Freya and Ingrid's long lost brother. Frederick is Freya's twin and he decided to stay back in Asgard when Joanna, Victor and Wendy were banished.
His powers include immortality and the ability to cast spells.
Meanwhile, fans of Freya and Killian can heave a sigh of relief as the promo showed that Killian was very much alive after being attacked and set out to sea by Dash. And now that Freya knows who her true love is, thanks to Victor who told her that she has always been in love with Killian in her past lives, viewers will surely get to see them romancing each other in the upcoming season.
Fans are also hoping that season two will reveal the background story of why Killian and Dash do not get along.
The second season of "Witches of East End," based on the Beauchamp Family series by Melissa de la Cruz, will have a summer premiere and it is believed to adhere to the book. The first season differed from the book's plot by making Ingrid and Freya unaware of their magical powers or their background.
Image credit: Witches of East End/Facebook
(Ed: AJ)