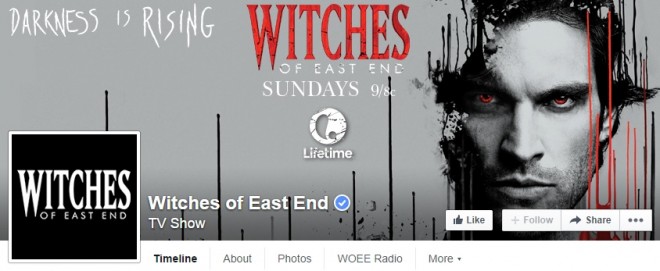 Season two of "Witches of East End" has adhered to its theme of "Darkness is Rising," and the highlight of the season is going to be its finale, which will "blow everybody's minds," according to series executive producer Maggie Friedman.
The finale is going to be a two hour special featuring two episodes back-to-back, and the Beauchamps are expected to lose one of their own in the final moments.
"Everything that's been happening all season has been leading up to these two episodes," Friedman told the U.S. edition of International Business Times. "And you know, s--- goes crazy. Both episodes are amazing, fun, scary and crazy, but the last five minutes, I think, will blow everybody's minds. There's a huge twist that happens at the end. I think people are going to be pretty shocked by the end of the season," she added.
So which character will bite the dust in the finale?
Wendy, played by Madchen Amick, seems to be a candidate. In a recent interview with Zap2It, Amick said that Wendy, Freya and Joanna will be trapped in the past during their endeavour to find the weapon that could kill the king, and Wendy will offer her life for the safety of her family.
"We only have a certain amount of time we can spend in the past before we start to un-exist," Amick said. "Something may happen to our gateway back to the future and then we have to scramble and fight for our lives. ... Wendy acts responsibly and she does offer up her life for her loved ones [in the finale]. She'll do what she has to protect her family, we'll be exploring that and I think the fans might be in for a shock."
Besides Wendy, the death of Frederick has also been speculated. Viewers have been divided on their opinion of Frederick, and the finale will finally reveal if he is a good character who has always wanted to safeguard his family.
The finale will also introduce the third Beauchamp sister besides Wendy and Joanna. The third sister gathers souls in hell, and she is definitely one to look out for, as the Gatherer has been plotting revenge in hell for a long time now.
Season two finale of "Witches of East End" will air on 5 October on Lifetime.