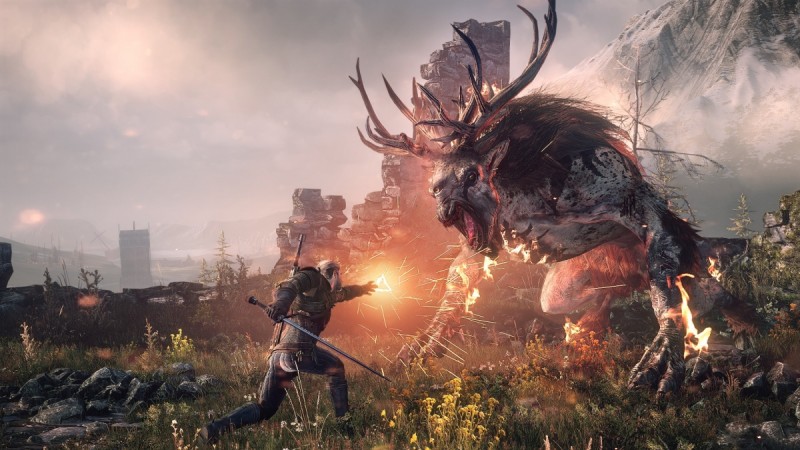 Gwent is an in-game card match that you can take up in The Witcher 3, along with several cards that have to be collected while spending time in the massive open-world, with several unique cards up for grabs as well.
If you aren't sure how to play Gwent, here's a complete guide to show you the way. But if you have already mastered the card game, this guide will help you unlock four unique Gwent cards in the game, the biggest being the Geralt of Rivia card.
This guide is related to the in-game Old Pals Quest that will open up four unique cards for you, each of which will add more power to your already decorated card deck.
Here are some tips that should help you get all these cards.
Eithné Card – Obtained from Zoltan
Once you complete 'A Deadly Plot' quest, you should find Zoltan outside his shop (or place of business). The place is located near to the Gate of Hierarch Signpost in Novigrad.
Approach Zoltan and strike up a conversation with him. While conversing, if the option to play Gwent with him pops up, just go for it, defeat him. This should successfully unlock the Eithné Hero Card (not affected by Special Cards or Abilities).
The Card you will receive here is a Ranged Combat unit with a value of 10 and can only be used with the Scoia'tael deck.
Saesenthesis Card – Obtained from Roche
After you have obtained the Eithné Card, leave Zoltan's place and return to the Gate of Hierarch Signpost. Note that you can fast travel to the location by reaching the Temerian Partisan Camp northeast of Oxenfurt.
Roche's location should be available to you if you keep track of the markers indicated on the map. When you come across him, strike up a conversation and challenge him to a game of Gwent.
Once you beat Roche, he will give you the Saesenthessis Hero card. Again, the card is only available for the Scoia'tael deck, has a value of 10 and is a Ranged Combat unit.
Mix the Saesenthessis Hero card with the previously acquired Eithné Card to bolster your Scoia'tael deck for future Gwent challenges.
Geralt of Rivia Card – Obtained from Thaler
If you have been unable to locate Thaler to obtain the Geralt of Rivia card from him, know that you can only challenge him provided you have already got the better of Zoltan and Roche in the previously discussed card matches.
Thaler should be present at the Seven Cats Inn only after you complete 'A Deadly Plot' quest. Provided you have done what is needed (card games and completing 'A Deadly Plot'), you should be able to engage Thaler and play Gwent with him.
If you are ready to face Thaler, fast travel from the Temerian Partisan Camp to the Seven Cats Inn Signpost to the southeast of Novigrad.
Move into the Inn and look for Thaler. You should find him leaning against a wall along one of the wings of the Inn. On beating Thaler, you should successfully receive the Geralt of Rivia card – one of the most powerful cards out there for Gwent.
The Geralt of Rivia is a Close Combat Hero card. It can be added to any of your four decks, and will offer a value of 15. The only other card comparable to the Geralt of Rivia card is the Ciri card.
Triss Merigold Card – Obtained from Lambert
You won't be able to engage Lambert unless you are in the middle of the Ugly Baby quest after completing The Final Trial quest. So it's better if you complete the quest in hand and then strike up a conversation with him, which will also open up the Gwent option.
If you have already beaten all the three previously mentioned opponents for their respective Gwent cards, there shouldn't be much difficulty in taking out Lambert.
If you beat Lambert in Gwent, you will be rewarded with the Triss Merigold Hero card. This card only has a valuation of seven but can be used in any deck as a Close Combat alternative.
Stay tuned for more updates!
[Source: Prima Games]