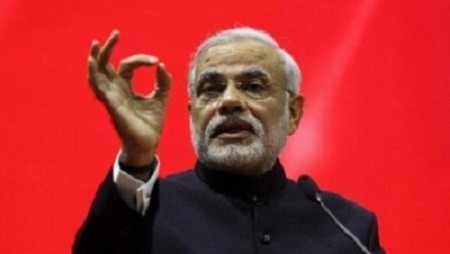 Calling it a 'recipe for disaster', Gujarat Chief Minister Narendra Modi has strongly critiqued the anti-communal violence Bill drafted by the Centre in a letter to Prime Minister Manmohan Singh.
"Communal Violence Bill is ill-conceived, poorly drafted & a recipe for disaster!" Modi said on Thursday.
He described the proposed Bill as an attempt to encroach upon authorities of the state governments and sought wider consultation among various stakeholders such as the state governments, political parties, police and security agencies etc. before any further action was taken on the issue.
"Communal Violence Bill is in clear violation of India's federal structure. Centre is busy forming laws on matters that are in the State List. if a Legislation has to be implemented by the States, should it not be legislated by the States?" the BJP prime ministerial candidate posted on his Twitter handle.
When asked about the proposed Bill, Dr Singh told ANI, "This session of Parliament is of short duration. It is obligatory on all parties to get essential business transacted as speedily and smoothly as possible. It will be our effort to evolve a broad based consensus on all matters which is of great legislative importance."
Modi also accused the Congress-led UPA government of lacking 'genuine concern' towards those affected by communal violence in the country.
"Timing of Communal Violence Bill is suspicious. Political considerations & votebank politics rather than genuine concerns are guiding it," Modi said.
Congress leader Rajiv Shukla reacted saying, "It is Modiji's job to twist things, do vote-bank politics, make issues controversial."
BJP ally and right wing party Rashtriya Swayamsevak Sangh further said that the Bill should not be tabled during this session and let the government formed after Lok Sabha polls in March take care of the matter.
RSS leader Ram Madhav Varanasi said, "This is an utterly communal move; it is a very harmful political game. If government is keen on maintaining communal harmony they should let a new government be formed and then it can be debated.
Modi addressed the letter to Singh on the first day of the Winter Session, in which Prevention of Communal and Targeted Violence (Access to Justice and Reparations) Bill will be introduced, in Parliament.
The proposed Bill was drafted by National Advisory Council (NAC), headed by Congress president Sonia Gandhi, and has Tamil Nadu CM J Jayalalithaa as its strongest critic.
Leader of Opposition (Rajya Sabha) Arun Jaitley said on Tuesday, "The Bill was highly discriminatory since it discriminated against the majority and minority on basis of birth marks. It gave unguided power to authorities proposed to be created and loaded the redressal and accountability mechanism in favour of one community against the other on the basis of religion."