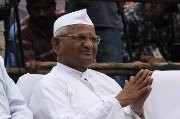 Anti-graft activist Anna Hazare is set to launch an indefinite fast from Tuesday in Delhi until the Jan Lokpal Bill is passed in both houses of Parliament during the Winter Session.
"I am going on a fast and will not break it till Jan Lokpal Bill is not a reality. Last time I sat on fast, the government assured it would bring Jan Lokpal and requested me to break my fast. I didn't know they would betray. Their reassurances would not do this time," he told ANI.
Hazare complained about the delay by the UPA government to pass the anti-corruption Bill for the past two years.
"Two years have gone, but the government has done nothing on the Jan Lokpal Bill. The Rajya Sabha only needs to debate the Lokpal Bill. But since one year, there has been no progress. I will go on an indefinite fast from tomorrow in Ralegan Siddhi for the Jan Lokpall Bill," he added.
In the past year, Hazare has been receiving letters from the Prime Minister's Office on 'why the Bill could not be brought up in the Parliament'. He accused the Congress-led central government of 'deceiving' the people repeatedly.
The anti-grat Bill was a proposed legislation drafted by members of the civil society in December 2011 during Hazare's fast-unto-death on the Ramlila Ground. The government made elaborate changes in the Bill and came up with its version of the Jan Lokpal, which was passed in the Rajya Sabha in 2012 but was not introduced in the lower house.
A special Rajya Sabha committee again introduced certain changes in the proposed Bill. The Bill is yet to be introduced in the Winter Session which commenced on 5 December.