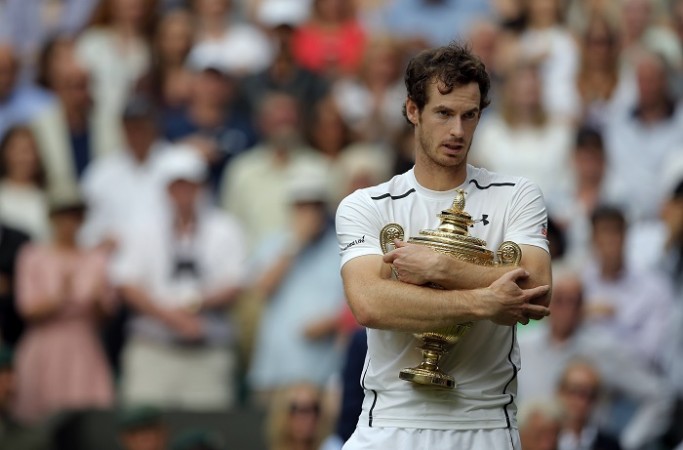 Novak Djokovic might still be well ahead in the rankings, but Andy Murray has his eyes set on becoming the new world number one after clinching his second Wimbledon title with a victory over Milos Raonic on Sunday.
Murray won his third Grand Slam crown overall with a straight set victory over the Canadian, and while Djokovic remains the undisputed best player in the world, despite an early exit at Wimbledon, the world number two believes he has the motivation and wherewithal to give the Serbian a run for his No.1 ranking money.
"It's definitely a goal," Murray , who is nearly 5000 ranking points behind Djokovic at the moment, said while basking in his Wimbledon triumph. "Before when I won here [his first title in 2013], I was genuinely motivated solely really by the Slams. I think my results for the rest of the tournaments showed that. Whereas now, I feel a lot more motivated throughout the whole year and at all of the events."
The next big event coming up is the final Grand Slam of the year – the US Open – but, before that, with the hardcourt season set to come into full swing, Murray is ready to take the proverbial bull by the horns and compete for the right to be called the best player in the world, with reunited coach Ivan Lendl playing a crucial role in motivating the Scot to be the best he can be.
"It's something I spoke to my team about, something I chatted to Ivan about," the 29-year-old said. "I would love to get to No.1, for sure, and the way to do that is to show up every week and be focused on that event.
"Before, sometimes maybe a couple of weeks before the US Open, my mind was already in New York. I wasn't thinking about that week, maybe in Cincinnati or something like that. I was distracted by the major event that was coming up because that was what really motivated me. Now I feel quite different about that throughout the year."
Wanting one thing and actually being able to get it are two different matters, however, especially when the man that Murray needs to beat to that No.1 ranking goes by the name of Novak Djokovic, who has been as close to unstoppable as a player can be.
"Novak is still clearly No.1 in the world right now, he is not just going to go away because he has had one bad tournament," Murray added. "You can't forget what he has done in the last 18 months or so, it has been incredible.
"This has been a great tournament for me but, if I want to win a few slams over the next few years, I am going to have to get better. I know that he will come back strong from this because of the player he is."