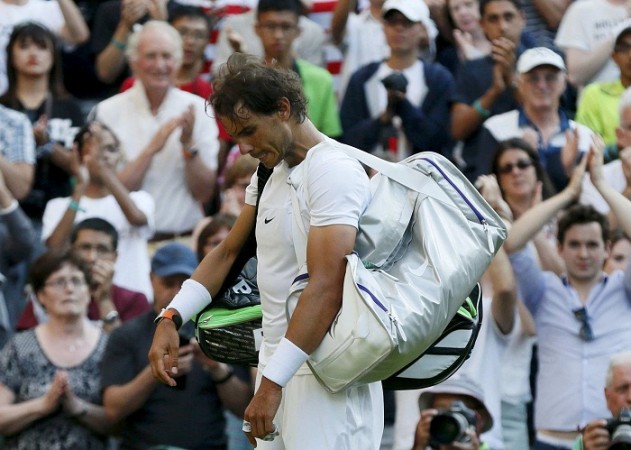 Lukas Rosol, Steve Darcis, Nick Kyrgios and Dustin Brown – all ranked 100 or above when they produced tennis of the highest order to knock out one of the greatest players to ever play the sport -- Rafael Nadal – at Wimbledon.
After suffering early exits at the hands of Rosol, Darcis and Kyrgios in the last three Wimmbledons, Nadal, looking as vulnerable as he has ever done, came under fire from a dreadlocked, power-serving, power-hitting, serve and volley, in the zone Jamaican-German, with the result being another look of disappointment from the Spaniard, who made his walk back to the dressing room in front of a shocked Centre Court crowd.
It is quite amazing how players seem to lift themselves up for a match against Nadal at Wimbledon. Rosol and Darcis showed no mercy as Nadal's creaking knees rendered his usual finesse irrelevant, while Kyrgios played how a teenager should play in the grandest stage of them all in tennis – showing no fear and going for broke with every shot knowing he has absolutely nothing to lose.
The same can be said of Brown as well, who would have struggled to make Nadal sweat on any other surface but grass. Grass, though, is tailor-made for the man born in Germany, brought up in Jamaica, before returning back in 2010 to represent his native country.
Every serve looked like it had a little extra; there hardly seemed any difference between the first and second serves; the majority of the volleys were precise; the returns off Nadal's rather weak serves were brutal as well.
It was Brown's day it seemed from the moment he started hitting those big, booming serves with Nadal failing to find his forehand.
If Nadal's forehand goes missing, and you add a first serve that had resigned itself from the match even before it started, instead choosing to sit back and relax in the dressing room rather than toil under the hot sun, there really is little chance of the Spaniard finding a way to win against an inspired opponent.
Inspired Brown certainly was, taking the first set at 7-5, after initially fighting back following an early break for Nadal. In the second set, it finally looked like we had some normal service, with Nadal getting into his groove and showing signs of the kind of form he showed against Tomaz Bellucci in the first round.
What a false dawn it proved to be, though.
Shaking off that second set loss like he did his dreadlocks every time he came up to serve or return, Brown found his ruthless rhythm again – keeping the points as short as possible and going for broke at the first time of asking.
With the forehand non-existent, Nadal just did not have an answer; every time you felt this would be the game that Nadal would fight back, his forehand would let him down, and that would be followed up by a difficult service game. Indeed, at one point, Nadal served five straight faults, four of which even failed to get over the net.
Such was the rattle-effect that Brown had on Nadal with his unrelenting, attacking game and it was little surprise that the final score read 7-5, 3-6, 6-4, 6-4 in the German's favour.
Where does Nadal go from here now, one wonders. Only the Spaniard can answer that.