Garbine Muguruza was staring at a probable defeat when she was down 4-5, 15-40 against Venus Williams in the ladies singles final at Wimbledon 2017. You felt, with all her experience, if Venus won the first set, she would go on to clinch her sixth Wimbledon title in a hurry.
It was something Muguruza was probably aware of too.
So, with her back against the wall, Muguruza showed all the fight and mental strength of a champion. She saved those two set points, held her serve, went on to break the next Venus serve, and from there it was lights out for the 37-year-old as the Spaniard, 14 years her junior, went on to clinch a quite magnificent first Wimbledon title, two years after being reduced to tears on this very court when she went down to Venus' younger sister Serena.
For Venus, this was a chance missed, a second Grand Slam final of 2017 lost and she will wonder about that tenth game in the first set, and how quickly the match changed from there.
Venus started out the first set stronger, looking more in control than Muguruza, who, you could feel, was nervous. Understandable too, having lost the final at Wimbledon the last time she graced this occasion, two years ago.
But then, Muguruza did end her major wait when she won the French Open in 2016, and that big-match confidence helped her in the early part of that first set, even when she wasn't playing at her best.
The Spaniard relies quite a lot on her forehands, but for much of that first set, the forehand went missing, with Venus looking to take advantage of that by forcing Muguruza to keep hitting that shot.
In a way that helped the 23-year-old, because it allowed her to find the confidence in her forehand and with it also her game, even if it could have all been nothing had she not saved those two set points.
After Venus held her serve to go 5-4 up, you could feel the pressure increasing at Centre Court, and as Muguruza tightened to give the American two set points, the result, even at such an early point in the match, almost seemed inevitable.
But to Muguruza's great credit, she fought back, playing out a long, wonderfully patient point, before getting the game back to deuce and eventually picking up that win to bring the match level again. That missed opportunity seemed to affect Venus more than it should have done for a player of such experience, because in the very next game, it was Muguruza who found the first break of the match.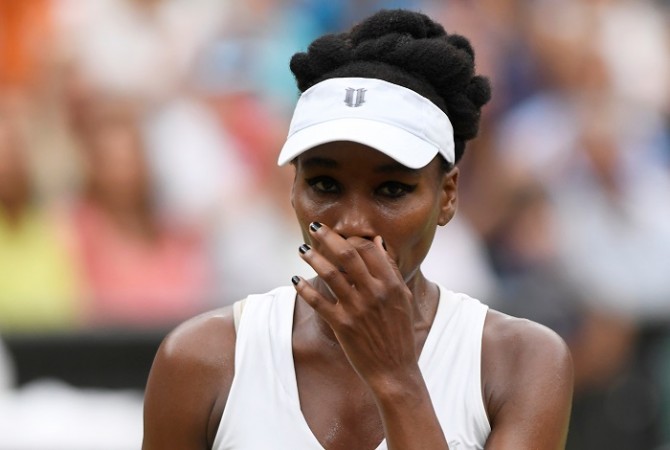 This was not an opportunity she was going to miss, with Muguruza serving out to take the first set.
It only got better for the No.14 seed from there, as Venus' game left Centre Court in a hurry.
A break in the first game of the second set was followed by one in the third and then one in the fifth, and before the crowd could even process what had happened, Muguruza was on her way to her first ever Wimbledon title.
Result: Garbine Muguruza beat Venus Williams 7-5, 6-0 in one hour and 17 minutes.
Stats:
Garbine Muguruza
Winners: 14.
Aces: 1.
Unforced errors: 11.
Double faults: 2.
Break points won: 4/7.
First serve percentage: 39/55 (71%).
Venus Williams
Winners: 17.
Aces: 3.
Unforced errors: 25.
Double faults: 5.
Break points won: 0/3.
First serve percentage: 44/62 (71%).