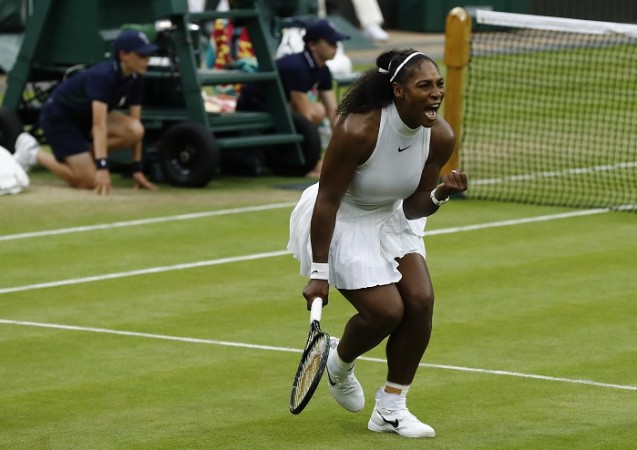 Serena Williams reached the Wimbledon 2016 final after a stunning display of power tennis against Elena Vesnina, winning the match 6-2, 6-0 in a mere 48 minutes. If the American manages to defeat Angelieque Kerber, who stunned the top seed in the Australian Open earlier this year, in the title-decider, she will pocket £2 million, which is the same amount that the men's singles winner shall receive as well.
All Grand Slams, including Wimbledon, since 2007, has had the same prize money for both the men's and women's tennis. And when Serena was quizzed by a journalist after her semifinal match, asking her if the equal prize money was fair, consdiering the outright dominance on court, which led to a lopsided match, the world number one threw down a wonderful smash of her own.
"Yeah, I think we deserve equal prize money. Yeah, absolutely. I mean, if you happen to write a short article, you think you don't deserve equal pay as your beautiful colleague behind you?," Serena asked.
The question must have cropped up due to Serena's match against Vesnina, which finished 12 minutes under an hour. The Russian will still earn the same amount as the losing semifinalists in the men's department, irrespective of how long the match goes. However, Serena believes that sex should not determine the prize handed out to the players, while adding women should be equally respected for their work.
"I would like to see people, the public, the press, other athletes in general, just realise and respect women for who they are and what we are and what we do," Serena said.
"I've been working at this since I was three years old. Actually, maybe younger, because I have a picture where I'm in a stroller. I think Venus is pushing me and we're on court. Basically, my whole life I've been doing this. I haven't had a life. I don't think I would deserve to be paid less because of my sex or anyone else for that matter in any job."
However, this is not the first time that talk about equal pay has come out in the open. World number one in the men's singles -- Novak Djokovic -- stated in March that more money should be paid to male players, who are followed more. During that time as well, Serena slammed the Serbian for his comments.
Though the Grand Slams might have equal prize money, interestingly, the cost of tickets for the Wimbledon finals are different. The women's singles final ticket starting price stands at £145, compared to men's at £175, but hopefully, after the women's singles final, the only questions that will be asked to Serena or Kerber will be about the match on court.