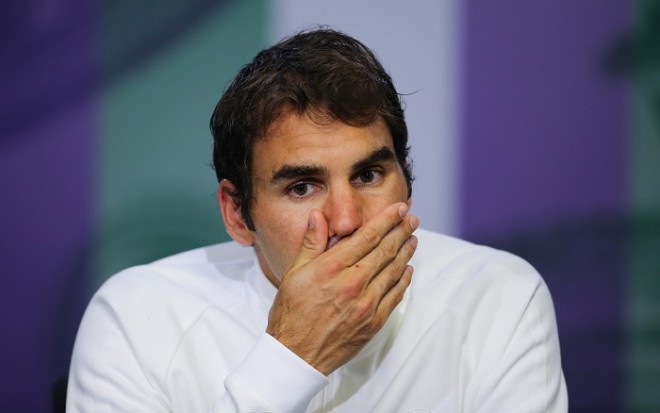 Roger Federer had that "how am I not doing the winner's press conference" look about him after going down to Milos Raonic in the semifinal of Wimbledon, the first time he has lost in the last four at SW19. Federer looked in control of the match against the Canadian, taking a two sets to one lead, before letting it slip from the 12th game of the fourth set.
Having surrendered the first set, following a service game in which he made four consecutive errors to give Raonic the only break, Federer fought back impressively, taking the second set in the tiebreak, before doing the running in the third to grab the lead in the semifinal.
The fourth set saw Federer causing more problems to Raonic, who had to fight off a few break points to keep the set on serve. He did that quite well, and when an opportunity presented itself, with Federer serving to force the set into the tiebreak, Raonic took full advantage, with the 17-time Grand Slam champion uncharacteristically serving two double faults.
Federer was at a loss to explain when asked how he let the match slip away. "Opportunities were all around the fourth set," Federer told reporters after the match. "I think I pushed him on a few service games to get the break. But somehow, I couldn't get it done.
"It's disappointing for me, clearly. Something went wrong. I can't believe I served a double fault twice. Unexplainable for me really. Really sad about that and very angry at myself, never should I allow him to get out of that set that easily.
"I mean, he deserved it, he earned it at the end, but I helped him so much to get back into that game. I would like to see a breaker because I was the better player for the set. I know he is great at breakers and all that, it was always going to be tough, but I would have liked to see him scramble more than that."
After taking the fourth set, it was all Raonic in the decider, with the Canadian moving into his first ever Grand Slam final, where he will face Andy Murray. Federer only gave away one break in the fifth set, but he was under the pump for much of his service games and seemed to lose his nerve, so unlike the 17-time Grand Slam champion, after taking a fall during the fourth game.
"Very disappointing, having the slip," Federer added. "Who knows what happens there. But it was a very disappointing end to the match for me.
"I don't slip a lot. I don't ever fall down. It was a different fall for me than I've ever had. With the body that's been, you know, playing up this year, I just hope I'm going to be fine."
Federer saw his hopes of winning at eighth title end as a result of the defeat, and while he was disappointed at losing out, the Swiss, who insisted he will be back next year, even if he will be on the brink of turning 36 by then, believes it is not the end of the world.
"Yes, while I am in the tournament, it is my dream to win the eighth," Federer said. "But, it's not my only reason why I play tennis, just to be clear. Otherwise, I will go into the freeze box now and come out for Wimbledon next year.
"So, that's not how we do it, we usually play 60 matches a year to try to achieve other things as well. I know Wimbledon is important, but it's not everything, everything."