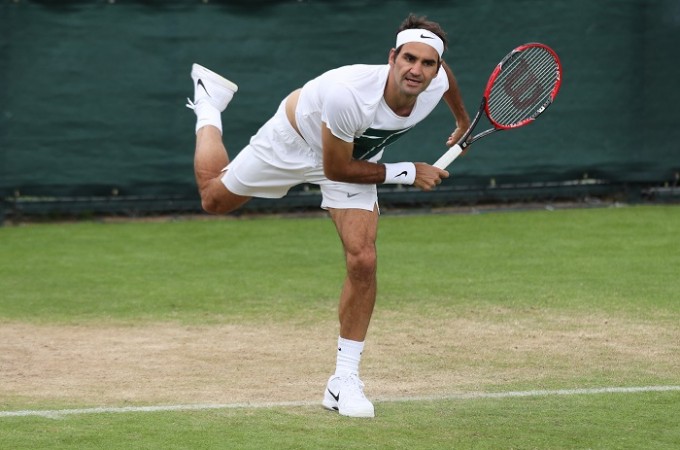 Roger Federer gets his Wimbledon 2016 campaign rolling with a match in the first round against Guido Pella on opening day Monday. The Swiss great, a seven-time champion at the All England club, is making a return from injury, with not many tipping the former world number one to threaten the dominance of Novak Djokovic and Andy Murray.
While Federer on a grass court can never be overlooked, this is a Wimbledon after a long time when he will come in with very little expectations. Of course, that could be said, to a lesser extent, of last year as well, before the Swiss maestro weaved his magic on Centre Court, particularly in a mesmerising semifinal against Murray, only to fall short in the final against the unbeatable Djokovic.
Federer, if all goes according to plan, will meet Djokovic in the semifinals this time, but, before that, there is the matter of getting back into his groove, having suffered defeats in the two warmup tournaments, to two of the brightest talents in the game – Dominic Thiem and Alexander Zverev.
"I think really for me was to get some confidence and some knowledge of where I was going to be in those seven matches in 10 days in Stuttgart and Halle," Federer was quoted as saying by Wimbledon's official website. "I think that was crucial for me going into Wimbledon knowing, OK, I passed that test, the body can take that amount of tennis, four matches back-to-back-to-back.
"It's really, really important for your mind to know, then you also feel you can manage the five‑setters. Clearly, I'm not thinking of the title right away. It's too far ahead."
What looked dangerously close to not happening, from the outside looking in, was a Federer return in time for Wimbledon, after the 34-year-old pulled out of the French Open with back and knee problems. However, those injuries have healed in time and Federer is ready to have another crack at the Wimbledon title.
"I honestly never thought I was going to miss Wimbledon, especially after surgery," Federer added. "I knew I had so much time to make it here, I knew I was going to be fine somehow.
"Did I quickly worry after pulling out of Paris? A little bit potentially, just because, you know, how many more weeks you have. Obviously if you enter, you want to feel like you have chances to go deep and potentially win.
"That's why I'm here as well now. I think this is a huge boost for me after pulling out of Paris, that I'm back here at my favourite tournament. With all the success I've had here, this is the motivation I need right now to get back on the big courts, play good matches, enjoy Wimbledon."
If Federer brings anything remotely resembling his A-game, he should not have too many problems dispatching 52nd ranked Pella, who is yet to get out of the first round at Wimbledon.
Where to Watch Live
India: TV: Star Sports 1 and Star Sports HD1. Live Streaming: Starsports.com and Hotstar.
UK: TV: BBC Two. Live Streaming: BBC iPlayer.
Switzerland: TV: SRG.
Pan-Asia: TV: Fox Sports Asia. Live Streaming: Fox Sports Play Asia.
Canada: TV: CTV and TSN. Live Streaming: TSN TV.
Europe: TV: EuroSport. Live Streaming: EuroSport Player.
France and Middle East: TV: Bein Sports. Live Streaming: Bein Sports Connect.
USA: TV: ESPN3. Live streaming: Watch ESPN.
Australia: TV: Fox Sports. Live Streaming: Foxtel.
China: TV: Beijing TV, LeTV Sports, Jiangsu TV.