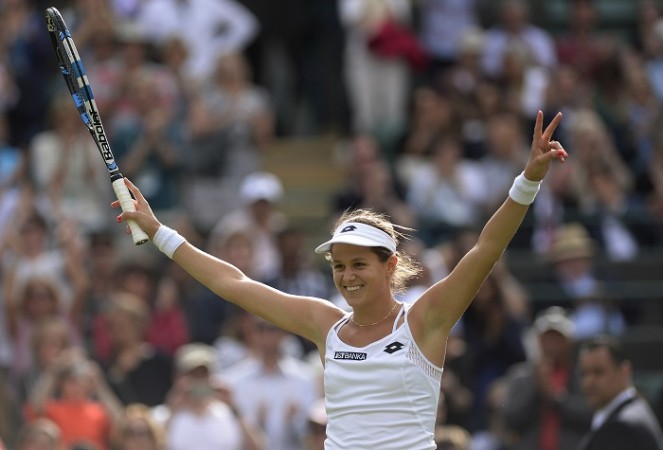 So much for Garbine Muguruza threatening Serena Williams at Wimbledon. A lot was written about the Spaniard heading into the most important Grand Slam of the year, but in just the second round, the French Open champion was given a tennis lesson by qualifier Jana Cepelova.
Having fought her way past Camila Giorgi in the first round, Muguruza would have been expected to come out a lot stronger for this match, but, instead, she ran into an inspired Cepelova, the conqueror of Simona Halep last year, with the world number 124 beating the No.2 seed 6-3, 6-2 on the No.1 Court in just 59 minutes.
"I have some great players beaten so I'm very satisfied," Cepelova said, acknowledging her victory over Halep last year as well. "I am really surprised, I didn't expect two sets," she said. "I'm here with my coach and two others but our family is at home, I think they would be watching it.
"Last year I beat Halep on this court and I had great memories."
Muguruza was not given a single moment to relax by Cepelova, and while the Spaniard looked off her pace, credit must be given to the Slovakian, who seems to have a knack of dumping out top seeds at Wimbledon, with her fast hands and effective groundstrokes catching the best players in the circuit out.
The No.2 seed, the runner-up at SW19 to Serena Williams in 2015, admitted she felt empty going into this match on Thursday.
"Today during the match, and after the match, well it was tough day," Muguruza said. "I feel empty a little bit, and I start to be sick. But I think it was a little bit of a combination.
"I think she played great, with no fear. She was trying a lot of stuff that was working. My energy was not really there. I was trying, but it didn't work at all."
Muguruza came into Wimbledon as one of the favourites for the title, but the 22-year-old admitted she now realises the importance of preparation and maintaining your mental and physical peak to remain consistent with her results, something only the real greats manage.
"I'm going to learn that you really need to concentrate on how to recover, and don't reach a moment where your energy is too low," Muguruza added. "Especially to play a Grand Slam, and to face opponents that, hey, they're good, they're here, they want to beat you so much. You've got to be ready."