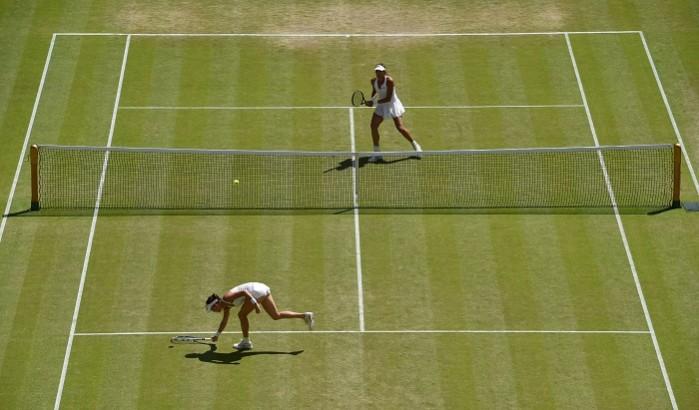 For a set and a half, there was only one player in this Wimbledon women's semifinal, with Garbine Muguruza absolutely pummelling the living daylights out of the tennis ball to leave Agnieszka Radwanska with little answer.
But then, momentum is a strange thing in tennis – one minute you're running forward like a freight train, with victory looking inevitable, and the next everything comes crashing down. A shot, a missed forehand, a simple putaway that goes out is all it takes to swing the match.
Radwanska lost the first set 6-1, barely able to put up a few points together, with Muguruza, who had 39 winners in all in the semifinal, then going up a break in the second as well to seemingly cruise her way into the final.
However, suddenly Radwanska found her defensive skills and variety of shots. Muguruza was made to move around, and with the Wimbledon title in sight, the young Spaniard got tight. Those forehands and backhands, which were finding the corners, started to go awry with Radwanska's experience coming to the fore as well to help turn the match around in dramatic fashion.
From 1-6, 1-3 down, Radwanska rained in five straight games to take the second set 6-3, before winning the opening one in the third set to maintain that most crucial word in tennis – momentum.
However, Muguruza, to her great credit, refused to lie down and die, instead breaking back the Radwanska serve immediately to level the deciding set.
So it remained until the sixth game, when Muguruza stepped up that killer-forehand/backhand gear to get the vital break for a 4-2 lead. After a bit of a struggle and a couple of crazy points, Muguruza consolidated that break to lead 5-2, putting her within one game of a first Grand Slam final.
With the victory and history close again, would Muguruza get tight again, one wondered. After nearly breaking Radwanska in the eighth game, Muguruza held her nerves pretty well, saving a couple of break points, with a bit of luck, it must be said, to seal her place in the Wimbledon final with a serve and volley on match point.
"I don't have words to explain it, so happy to achieve this, so no words," Muguruza told the BBC after the match. "I was playing really, really good, too good in the first set, and then I got pretty nervous in the second set.
"It's going to be a dream. I am in the Wimbledon final, so hopefully it goes well."
What was thought to be a mere appetiser for the main course that is Serena Williams vs Maria Sharapova proved to be much more. If Serena and Sharapova can serve up a similar match, the Centre Court at Wimbledon would have got their money's worth and more.
Result: Women's singles semifinal: Garbine Muguruza beat Agnieszka Radwanska 6-2, 3-6, 6-3.