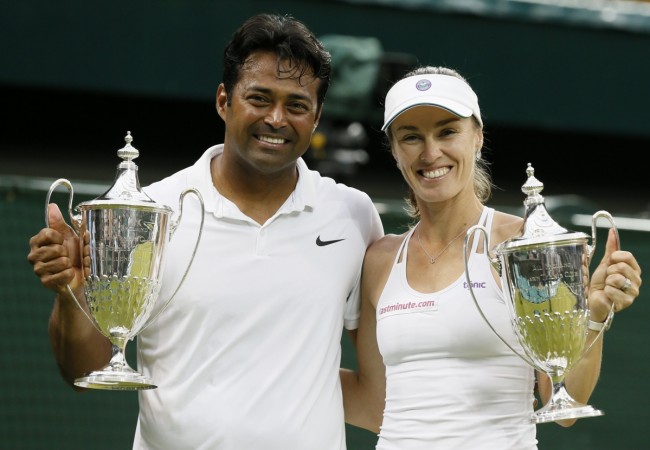 It was a super Sunday for India in Wimbledon 2015 as Leander Paes won the mixed doubles partnering Martina Hingis, while India's Sumit Nagal also brought glory to India as the 17 year old won the Wimbledon boys' doubles title alongside Nam Hoang Ly.
Paes and Hingis put up a clinical performance as they demolished fifth seeds Alexander Peya and Timea Babos in the mixed doubles final, 6-1 and 6-1.
Paes and Hingis could not do anything wrong in the final as they brushed aside the fifth seeds in just 40 minutes. Paes, as usual with his volleys, was at his mighty best and Hingis with her serve and exquisite return made it impossible for the pair to come back.
Such was the performance of the Indo-Swiss pair that Peya and Babos could just look at one another and smile in astonishment with the quality of tennis that they were up against. Make no mistake, the score line reflects a pathetic display from Peya and Babos, but they were simply outplayed, had it been for any other pair as well, a similar fate would have occurred.
When it comes to Paes, age just seems to be a number as he still possesses an energy of a 20 year old kid, when he is even past 40. It is the passion and hunger for the sport, which keeps him going.
Paes dedicated this victory to India. "This trophy is for India," NDTV quoted Paes as saying. "To represent the flag and my country is something I take very seriously." After Paes secured the mixed doubles title on Sunday, the crowd at centre court gave a standing ovation to the Indo-Swiss pair, who won their second grand slam of the year. They also won the Australian Open earlier in the year.
Paes even praised her partner Martina Hingis for her professional approach as the Swiss had won the women's doubles title with Sania Mirza on Saturday only and she was ready for the Sunday finals.
"I feel really special being on the court with Martina; she had an emotionally and physically-draining women's doubles final with Sania Mirza. She had a tough tough 24 hours and still came back and took the time to discuss our match. She tried to go to bed early and then came out early for warm-ups. That for me is thoroughly professional," Paes said.
Leander Paes first earned fame in 1990 when he won the Wimbledon boys' singles title and 25 years later he is regarded as one of the best doubles players in the world.
India's Sumit Nagal will also be aspiring to follow on the same footsteps of Paes, as the 17 year old also announced his arrival with a boys' doubles title win partnering Nam Hoang Ly. The pair put up an emphatic performance to clinch the doubles title defeating Reilly Opelka and Akira Santillan in straight sets with the score reading 7-6(7-4), 6-4.
Nagal might just be 17, but he will also have dreams of playing in the centre court, for which he has to work real hard as the competition is top notch. If Nagal wants to achieve success like Leander Paes', he needs to get cracking from right now.
The last player to win a boys' title was Yuki Bhambri, who won the singles in the Australian Open 2009, but he has not been able to succeed at the higher level.