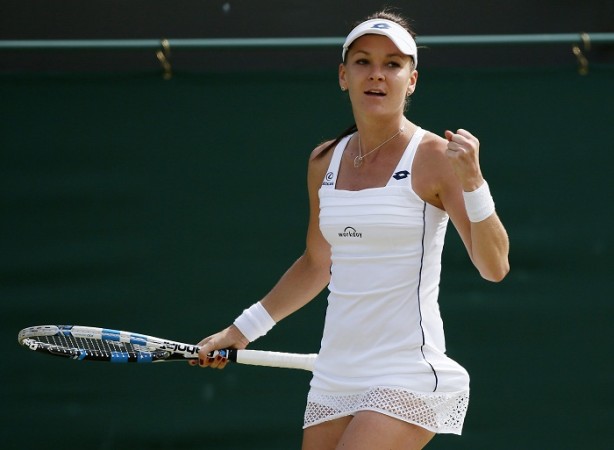 The fourth round fun is over – well, almost, if you don't take that final set that is pending between Novak Djokovic and Kevin Anderson into account – and it is over to the women's singles quarterfinals to take centre-stage at Wimbledon 2015 on Tuesday.
Starting off the quarterfinal action is Maria Sharapova and Coco Vandeweghe, the unseeded American who has impressed one and all on her way to the last eight.
Serena Williams then takes over with her match against Victoria Azarenka at Centre Court.
Over on Court No.1, Garbine Muguruza opens up with her quarterfinal against Timea Bacsinszky, the Swiss, who did so well at the French Open a few weeks back.
Madison Keys and Agnieszka Radwanska, one of the favourites for the title now, will then battle it out for a place in the semifinals.
While the women's singles quarterfinals will grab plenty of eyeballs, there will also be quite a bit of focus on the only men's singles last 16 match that is unfinished.
Djokovic had produced a stirring comeback after going to sets to love down to Anderson, before bad light stopped the play with one set to go.
Anderson was in his grass elements again, taking a couple of tie-breakers, before Djokovic showed just why he is the champion, by winning the next two 6-1, 6-4 to leave the match tantalisingly poised.
The two players will come out first on the No.1 Court on Tuesday, and with this match now basically a one-setter, it should be an interesting watch.
Muguruza, who beat fancied Caroline Wozniacki in straight sets in the pre-quarterfinals, and Bacsinszky will then want to prove they are not sideshows in this women's singles quarterfinal lineup by putting on a show of their own, while the match between Keys and Radwanska should be an interesting one, considering how well the American has played.
Radwanska, though, looks like she has found her old touch, easily-enough dispatching Jelena Jankovic, the conqueror of the defending champion Petra Kvitova.
Wimbledon 2015 Second Tuesday Order of Play: Centre Court (all quarterfinals, play starts 1 pm BST, 5.30 pm IST, 8 am ET): 4-Maria Sharapova vs Coco Vandeweghe
1-Serena Williams vs 23-Victoria Azarenka.
No.1 Court (play starts 1 pm BST, 5.30 pm IST, 8 am ET): Men's singles fourth round: 1-Novak Djokovic vs 14-Kevin Anderson (6-7, 6-7, 6-1, 6-4, to be completed).
Women's singles quarterfinals: 20-Garbine Muguruza vs 15-Timea Bacsinszky
21-Madison Keys vs 13-Agnieszka Radwanska.
No.2 Court (Mixed doubles third round, play starts 11.45 am BST, 4.15 pm IST, 6.45 am ET): 7-Leander Paes/Martina Hingis vs Artem Sitak/Anastasia Rodionova.
2-Bruno Soares/Sania Mirza vs Marin Draganja/Ana Konjuh (Final match on Court No.2).
9-Rohan Bopanna/Florin Mergea vs 1-Bob Bryan/Mike Bryan (Court to be arranged, start not before 4 pm BST, 8.30 pm IST, 11 am ET).