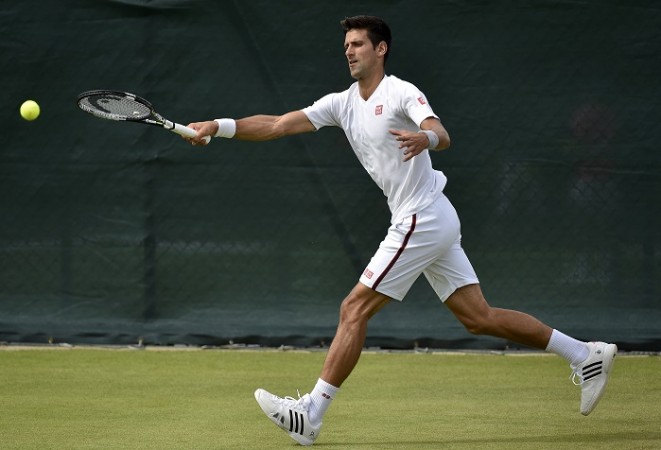 It is a kind of telepathy or communication to that effect is what Novak Djokovic insisted after the world number one was accused of getting help from his coaches, chief of them Boris Becker, during matches.
Singles matches in tennis is in the "lone wolf" category, wherein no players are allowed to get any kind of help or coaching. However, a storm was created by Becker a few days back when he admitted in an interview he does communicate with Djokovic during matches.
If it turns out to be true, Djokovic, the defending champion at Wimbledon, could be sanctioned, while several have accused him of "cheating", but the Serbian rubbished the criticism.
"I mean, there are special ways of, I would say, communication, as he [Becker] mentioned -- the way you look at each other, the way you 'feel' your box, and the box 'feels' what you're going through on the court. I think that's something that just gives you that reassurance, gives you that confidence," Djokovic said when asked about the issued.
"It's not necessary that he tells me where to serve or to which side of the opponent's court I have to play, because that doesn't happen. But it's more of an encouragement, and more of a support and reassurance, as I said, that's basically present in those moments."
So then, is that 'feel' a form of communication, something that is barred by the rules?
"Well, I think with all the cameras pointed out to him and to the box, I think you would already notice if he would just kind of go kick serve, slice, to do the backhand or forehand," Djokovic added with a smile.
"But again, we can't pretend like that's not happening in tennis. Of course, there's situations when it happens, and not just with the top players, with everybody. This is a very competitive sport. You're alone on the court. Of course, there's certain rules.
"But also there are times when the team of the player communicates with the player when he gets to go and take the towel in the corner, which is closer to the box, or different ways.
"I think it's all fine as long as it's not regular. I think it just depends. Also that's up to the chair umpire or supervisor to decide if somebody's breaking the rules or not. As long as it's something that you can tolerate, let's say, within the ways of communication, I think it's fine."
Another pot was unnecessarily stirred by Becker as well, with the former great claiming Djokovic and Roger Federer, the 17-time Grand Slam champion, including seven-times at Wimbledon, don't get along.
Djokovic would not be dragged into the controversy, insisting everything between the two modern-day champions are quite fine, while pointing at the media for creating rivalries.
"I think it is where you're trying to create such a tense atmosphere between the two players, where instead you're supposed to just focus on the right values and the fair play and the respect to the opponent and to the game itself," Djokovic said.