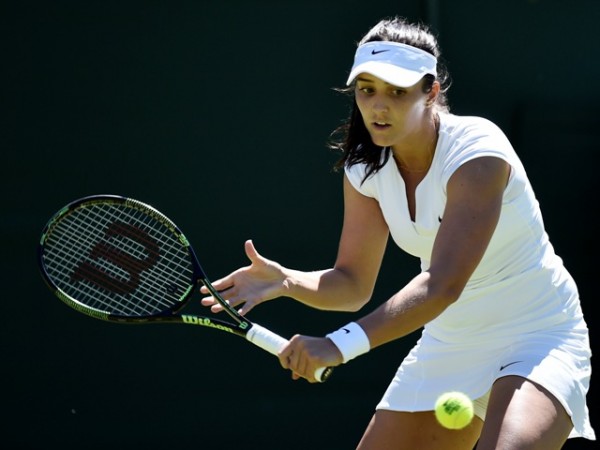 A fairytale return doesn't come so easy, and British tennis' pinup girl Laura Robson has just learnt it the hard way.
The 21-year-old and former British No. 1 returned to the All England Club after a span of two years following a wildcard entry, but she couldn't have a good outing as she lost in the first round 6-4, 6-4 to Russia's Evgeniya Rodina.
The former Wimbledon Girls' Singles title champion in 2008 has, however, taken positives from her match against the Russian and she has admitted that there are many aspects of the game she needs to be working on now.
Once ranked as high as 27, the Brith took part in her first competitive match after a span of a year and a half in the qualifying draw of the 2015 Aegon International in Eastbourne earlier last month, but she was shown the exit door following a 6-0, 6-1 loss at the hands of Australian Daria Gavrilova.
"Compared to the match I played last week [in Eastbourne], it [the Wimbledon game] was infinitely better," Robson said at the Wimbledon post-match conference.
"There were so many positives from today that I can go back and work on," she said. "You know, I was the one hitting winners, but I was the one hitting unforced errors, as well. Just in terms of finishing points better, moving better, definitely serving better, it's all things to work on and things to take into the next few much smaller tournaments."
Before her outing this year, Robson was last seen on-court in Wimbledon 2013, following which she spent as long as 17 months on the sidelines owing to a wrist injury.
Robson showed positive signs during the match as her hard-hitting left-handed first serve won her 66% of the points, but her second serve was a great disappointment.
Her 34 winners were nearly triple the Russian's, however she also fired with a whopping 45 unforced errors to just 12 from Rodina.
Robson even tried to motivate herself at times at the No.3 Court by imploring herself to "stop finishing too quickly."
However, it all ended after Rodina sealed the straight sets victory over her younger counterpart with a body-jamming serve, and it was game, set, match for the Russian after a duration of 1 hour, 43 minutes.
As disappointing it might be for Robson, she is hopeful of an improvement in the future, and that is what matters. It might take time, but Robson believes she can get back to the form she had before the serious wrist injury.
"I'm pretty confident that I have the ability to get back to where I was, if not higher. You know, it's going to be a long process to get there, but I'm very excited that I have another chance to do it," she said.
"Yeah, grand old age of 21. I've got a bit of time ahead of me. Yeah, definitely some more good years ahead."