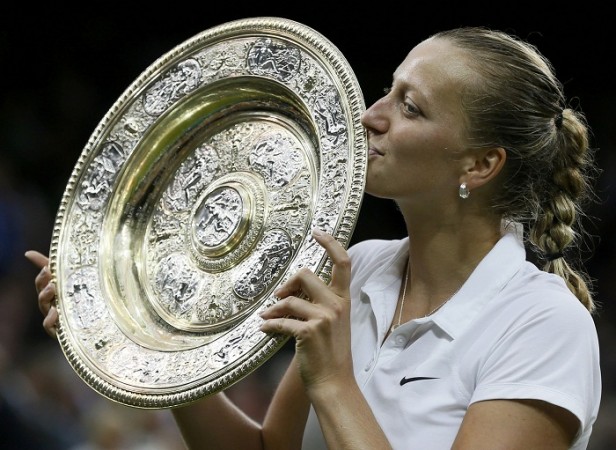 Petra Kvitova displayed a ruthless performance against Eugenie Bouchard to clinch her second Wimbledon title at the Centre Court of the All England Club on Saturday.
Kvitova crushed Bouchard 6-3, 6-0 in the shortest women's final since 1983 that lasted just 55 minutes. The Canadian was shell-shocked by the Czech's form as she fired 28 winners, four aces and never allowed the 13th seed to crawl back into the contest.
20-year-old Bouchard, who displayed stunning performances en route to the final of The Championships, had no answer to the former champion's searing ground strokes and flashing forehands. She was swept away by her 24-year-old opponent.
"Well, I first of all have to give full credit to my opponent. She played unbelievable and didn't give me many opportunities," Bouchard said. "She's been playing well all tournament and was really going for it today.
"I started well and was in there, but I didn't feel like I was able to play my game. She really took the chances away from me and was putting a lot of pressure on me. I didn't have many opportunities. But sometimes your opponent just plays better than you, and that's what happened today."
After winning the opening set convincingly, Kvitova gave no chances to the young Canadian and won the second set 6-0 to complete a clinical victory in her second Wimbledon final. The sixth seed termed it as one of her best performances and stated she is glad to hold the Venus Rosewater Dish for second time in her career.
"Yeah, it seems like it, right? It definitely was one of the best matches that I've played," she pointed out. "I knew I could play well on the grass, but I really played so well today. I knew exactly what I had to play to beat her. I just did everything I could in the moment. I was very focused for every point. I knew that I had to go forward for every shot I was playing to push her back, and yeah, I did it.
"It means everything, definitely. I mean, it's Wimbledon. Tennis here is tennis history. Centre Court is always great to play on. I really feel like I'm at home. I was really up and down after my title here in 2011, but I still worked hard and believed in myself, and my team believed in me as well. We did a good job and I'm just glad I have it for a second time."
Meanwhile, Bouchard said though she is disappointed after losing the Big W decider, reaching the final will give her motivation for the upcoming tournaments.
"I'm always hard on myself," Bouchard insisted. "Maybe a bit too much. But that's what motivates me to do better. I never want to be satisfied. Of course I'm disappointed with a loss today, but I will realize how far I've come this year already and appreciate the hard work I've put in and really believe that I can be at the top level of the game. That will give me motivation. So I think I'll look back and I'll be okay."