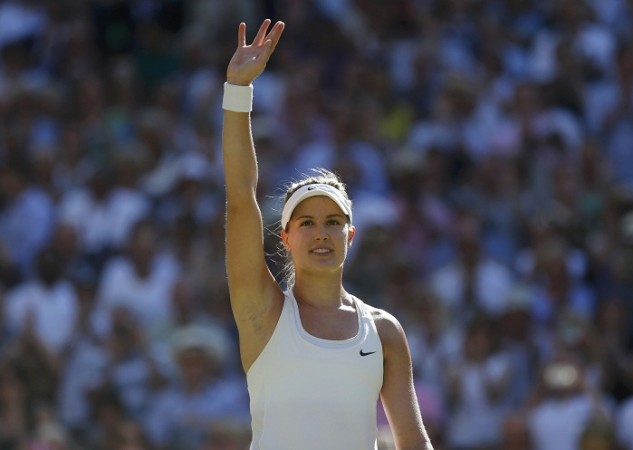 Eugenie Bouchard defeated Simona Halep of Romania and booked her maiden Grand Slam final appearance with Czech Republic's Petra Kvitova at the All England Club on Thursday.
Halep started the match strongly and broke Bouchard's serve in the third game. However, the Canadian managed to come on level terms as she got the break back in the next game. Meanwhile, the French Open finalist twisted her ankle and took a 12-minute medical timeout.
Bouchard started to pile pressure on Halep as the match resumed, but the third-seeded built a 4-2 lead over the world number 13. Former junior Wimbledon champion, however, managed to take the first set into the tiebreaker and clinched the opener 7-6(7-5).
The 13th seed was at her best in the second set and broke Halep in the third game. She soon raced to a 5-1 lead and clinched the encounter 7-6(7-5), 6-2.
"It was a little crazy - I've never really ended a match like that," Bouchard said. "I'm just happy I kept my focus and didn't get distracted or anything and played well in the last game."
"I'm not surprised to be in the final, because I've put in a lot of hard work and it's been years in the making," she explained. "I believe in myself and I expect good results and I always want more. I've had a good start to the season, but I expect myself to do even better than that and that's what I'm going to try and do."
Earlier, Kvitova returned to the Wimbledon finals with a 7-6(8-6), 6-1 victory over her fellow countrywoman Lucie Safarova at the Center Court in one hour and 20 minutes.
Kvitova made a bright start of the match, breaking Safarova's serve in the first game, but the 23rd-seeded Czech battled and forced the tiebreaker in the opening set and clinched the opener 7-6(8-6) in 51 minutes.
Safarova was undone in the second set by her fellow Czech as she had no answers of the weighted forehand and precise serve of the former champion.
"It's great, definitely. I don't have the words to describe how I'm feeling right now," Kvitova said. "It was a tough match mentally, because Lucie is a good friend of mine - we know each other very well on and off the court - and I knew she was going to play very well. I'm just very happy I won and am in the final again.
"I tried to be focused from the beginning of the second set," she added. After I won the tie-break, I broke her in the first game of the second set and I managed to keep it going and serve well until the end."