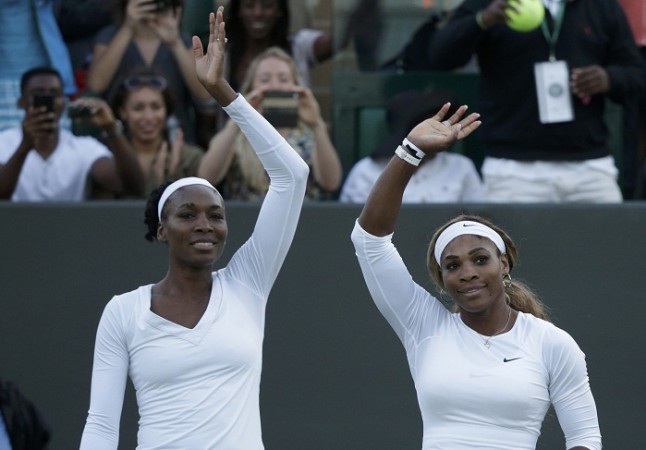 Serena Williams and Venus Williams are set to face Kristina Barrois of Germany and Stefanie Voegele of Switzerland in the second round of the women's doubles event at the All England Club on Tuesday.
The eighth-ranked pair had defeated Oksana Kalashnikova and Olga Savchuk in the first round. They rallied back after losing the closely contested first set to clinch the encounter and book the second round berth.
Serena-Venus could now face ninth-seeded Andrea Hlavackova and Chinese Jie Zheng in the third round. The Williams sisters have crashed out of the singles event but they are not leaving the championships soon as they are aiming to win their sixth doubles title together.
Venus went down against Petra Kvitova in a hard-fought three-set encounter in the third round but the five-time singles champion insisted that she is now focused on the doubles event and is aiming to keep her game up.
"I'm so focused on the doubles right now," Venus said. "That's what I really have to focus on, is being a great team member, just unbelievable, keeping the level of my play up (and) then go from there."
Venus has won nine singles, 13 doubles and two mixed doubles Grand Slams but the former champion insists she wants to add more majors to her kitty.
"I want to win Grand Slams," she insisted. "Everybody does. You don't get them. Look at what happened today. No one gives it to you. They snatch it away and say, 'Mine.' That's what I'll have to do is snatch it, say, 'Mine, too,' growl if need be. That's what it takes."
The 34-year-old stressed that despite facing some tough outings this season, she is not thinking about retirement.
"No, people have been trying to retire me since I was like 25. For some reason, in tennis, we always do that to our players. It's weird. We don't encourage them to stick around. It's like, 'Get out of here'."
"So I'm not getting out of here. I think this year has been a great year for me. I've had some tough losses, but I've learned a lot from them. I'm finding my way back on my feet. I'm proud of myself for what I'm achieving on the court."
Meanwhile, Serena, who faced a shocking third round exit from the tournament, is clearly low on confidence, heading into the doubles tie. The 33-year-old said she told her sister to choose a new partner as she is out of form.
"I suck right now at doubles I told Venus the other day I don't even want to play because I'm so bad right now. She should get a new partner," Serena said.
Schedule of Play
Serena Williams/Venus Williams vs Kristina Barrois/Stefanie Voegele 10:00 pm IST, 12:30 pm ET and 4:30 pm GMT start
Where to Watch Live
The day's action is scheduled for 4:00 pm IST, 10:30 am GMT and 6:30 am ET start, with live coverage on Star Sports 1 and Star Sports HD1 in India and live streaming option HERE and HERE. International viewers can catch the action HERE and HERE or listen to the action free HERE.
BBC will broadcast matches live in the UK. Viewers can also live stream the action HERE or HERE. Catch the action live on ESPN in the United States or see live streaming HERE. SuperSport will telecast the action in South Africa and Sub Saharan Africa and viewers can catch the matches live HERE.