Bidding for his eighth Wimbledon title, Roger Federer will be up against big-server Milos Raonic of Canada in the second semifinals at the Center Court of the All England Club on Friday.
Raonic has been in incredible form in The Championships and is using his lethal serve and biting forehand quite well in the tournament. He fired 35 aces against Kei Nishikori and racked up 34 aces against Australian Nick Kyrgios in the quarters. However, the Canadian will need more than just service to get past the Swiss Maestro.
The eighth-ranked Raonic is appearing in his first Grand Slam semifinal and to add more pressure, the 23-year-old is yet to beat the most decorated player. But with a serve game like Raonic has, it will not be easy for the seven-time winner to wrap-up the encounter easily.
"I have played him I believe four times now," Raonic said. "He's gotten the better of me all four times. But I haven't played him I think in more than a year. So I think I'm a different player. I've got in close with him in the past and I have found a lot of those things I can sort of pull away that give me a lot of belief that I can do this. There's no point to talk about it. I have got to step up and do it."
Raonic is pounding on his serve to help him register his first win over the 17-time major winner. The Canadian is serving pretty well as has was won 98 per cent service game and fired 147 aces in the tournament so far, compared to Federer's 63 aces.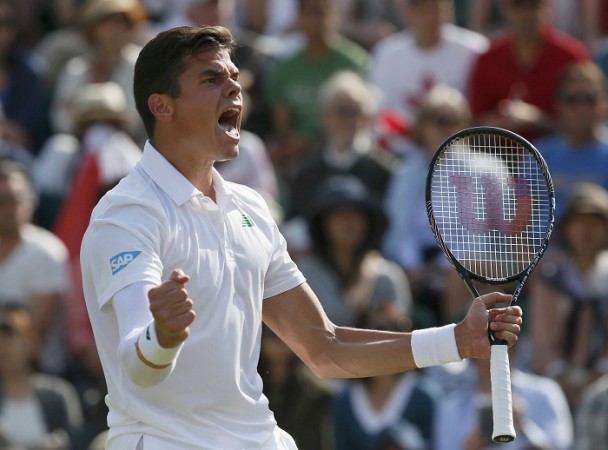 "I think very highly of my serve," said Raonic. "I think very highly of his. But I've got to hope that my serve's better than his in that situation. I've got to hope that my serve can get me through a lot of difficult situations in whatever sort of rises up."
Federer is aware what is awaiting him in the semis and insisted that Raonic's game is weaved around his strong service game and is also serving pretty well in the entire tournament.
"He's got a big serve," Federer said. "Clearly that's what is most visible when you see him play. That's the hardest to deal with, I guess. It keeps him in the match. It doesn't matter almost how he plays his return game. He's been serving very well for this entire tournament."
The former champion insisted that it will be difficult to deal with Raonic, but he is concentrating on improving his service game.
"On the grass, with a serve like that it's never going to be an easy match," he insisted. "That's where you then sort of go back to your own game and say, 'I'll take care of my own serves and see what I can do on the return.' That's my mindset right now."
Schedule of Play
Roger Federer vs Milos Raonic 8:30 pm IST, 11:00 am ET and 3:00 pm GMT start
Where to Watch Live
The day's action is scheduled for 5:30 pm IST, 12:00 pm GMT and 8:00 am ET start, with live coverage on Star Sports 1 and Star Sports HD1 in India and live streaming option HERE and HERE. International viewers can catch the action HERE and HERE or listen to the action free HERE.
BBC will broadcast matches live in the UK. Viewers can also live stream the action HERE or HERE. Catch the action live on ESPN in the United States or see live streaming HERE. SuperSport will telecast the action in South Africa and Sub Saharan Africa and viewers can catch the matches live HERE.