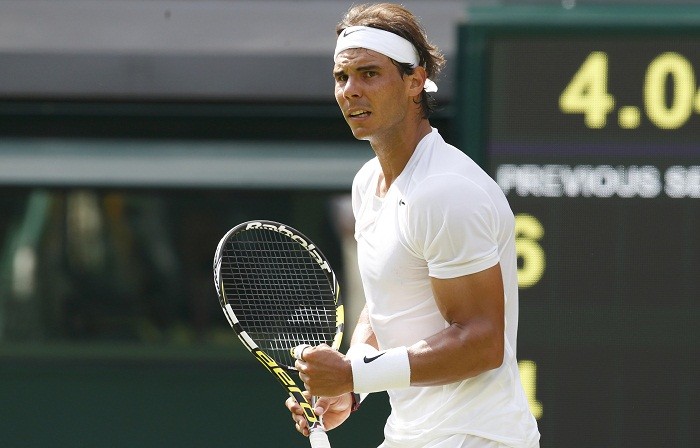 Two-time champion Rafael Nadal, 17-time Grand Slam winner Roger Federer and reigning Australian Open champion Stanislas Wawrinka will play their second round matches at the All England Club on Thursday.
World number one Nadal will be up against familiar foe Lukas Rosol of Czech Republic to book a third round berth. The Spaniard has a 1-1 win-loss record against the Czech, but more importantly Nadal's loss came in the second round of the Wimbledon in 2012.
The 28-year-old, after snapping his two-match losing streak at the All England Club in the first round, admitted that beating Rosol is not going to be easy and he will have to play a cleaner game - after his wobbly first round victory - against the world number 52.
"He's a player that can play very well on this surface," Nadal said. "He's an aggressive player. It will be a tough match again. I know if I want to have chances to win, I need to play very well. That's what I'm going to try. If not, I don't have chances to be in the third round. But I'm going to fight for it."
The Czech is unfazed by Nadal's recent success on the tour and stressed that the King of Clay is vulnerable on grass. The 28-year-old said he will try to pull off another upset against the Spaniard to move into the next round.
"It's Nadal who has to win, I have nothing to lose," Rosol said on Tuesday. "I can create another surprise. I want to impose my style on him. The shorter the rallies, the better for me. Nadal is the king of clay, but he is more vulnerable on other surfaces, especially grass. If you want to beat one of the big stars at a grand slam, the early rounds are the best."
Seven-time winner of Wimbledon , Federer will take on Gilles Muller in the second round after overpowering Paolo Lorenzi in the first round.
Both Federer and Muller are coming into the match with convincing first round victories, but the Swiss maestro edges the Luxemburg native in head-to-head encounters. Federer has won all three matches against the world number 103 so far on the professional tour.
The 32-year-old, who used his tactics well against Lorenzi, pointed out that the surface is slow, which made him adjust to his game. The former champion, however, warned he will not hesitate in using full force.
"I've been trying to play some serve and volley last week in Halle," Federer said. "But here the surface is slower again. I have to readjust and see against who does it work and how do you do it. Because those guys (opponents) are looking for the rallies, you tend to just also do it because it's comfortable, it's nice to stay back there, serve, wait, hit the big forehand."
Swiss number one Wawrinka will face Yen-Hsun Lu of Chinese Taipei in the second round in what is their first meeting on the tour. The third-seed has come into the tournament on the back of some fine performances after losing in the French Open opener.
Meanwhile, Jerzy Janowicz will face former champion Lleyton Hewitt, Tommy Robredo will lock horns with Adrian Mannarino and American John Isner will also be in action today.
Schedule of Play
Rafael Nadal vs Lukas Rosol 5:30 pm IST, 8:00 am ET and 12:00 pm GMT
Stanislas Wawrinka vs Yen-Hsun Lu 7:30 pm IST, 10 am ET and 2:00 pm GMT
Jerzy Janowicz vs Lleyton Hewitt 9:00 pm IST, 11:30 am ET and 3:30 pm GMT
Roger Federer vs Gilles Muller 10:30 pm IST, 1:00 pm ET and 5:00 pm GMT
Where to Watch Live
The day's action is scheduled for 4:00 pm IST, 10:30 am GMT and 6:30 am ET start with live coverage on Star Sports 1 and Star Sports HD1 in India and live streaming option HERE and HERE. International views can catch the action HERE and HERE or listen to the action free HERE.
BBC will broadcast matches live in the UK. Viewers can also live stream the action HERE or HERE. Catch the action live on ESPN in the United States or see live streaming HERE. SuperSport will telecast the action in South Africa and Sub Saharan Africa and viewers can catch the matches live HERE.