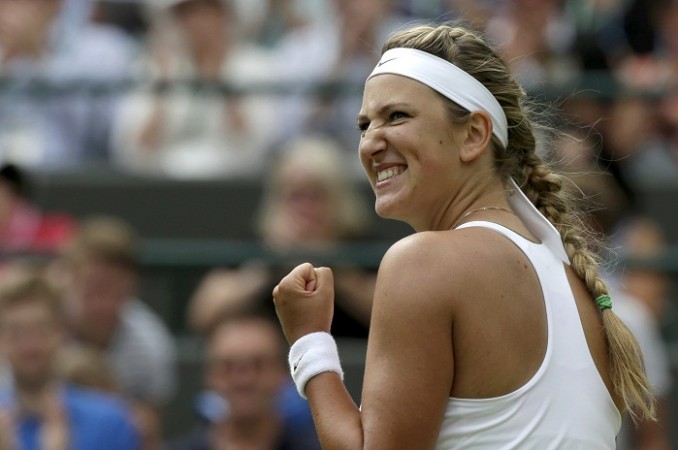 The reigning Australian Open champion Li Na, fourth-seeded Agnieszka Radwanska and Victoria Azarenka of Belarus will play in the second round of Wimbledon on Day 3 at the All England Club.
Chinese Li Na will lock horns with Yvonne Meusburger of Austria after overcoming her first round hurdle against Paula Kania of Poland. The two-time major winner overpowered her Polish opponent in straight sets to put behind her French Open woes.
This is the first meeting between these two and after a woeful clay-court season, both have ended up winners on grass. The world number two admitted that grass is not her favourite surface and it was tough for her to adjust from clay to grass in a short span of time.
"I never think I can play well in the grass court because for me it's tough," Li said. "I think for everyone it's tough. Because only one month for whole the year we can play in the grass court. Also we cannot train in the grass, is a little bit special. Pretty close French Open, Wimbledon, only two weeks, very tough for me to change the surface."
However, it will be a tough task for Meusburger to prevail over the second-seeded Li Na, as she has lost seven of her nine tour matches this season. The world number 38 is yet to register a win against a top-10 opponent and her only top-20 victory came against Nathalie Dechy in the Federation Cup.
Meanwhile, eight seed Azarenka made a successful return from a foot injury and booked a second round clash with Bojana Jovanovski of Serbia. The Belarusian registered a straight set victory in her opening tie and found the rhythm after losing the opener last week in Eastbourne.
"I'm just very happy to be able to play – this is what I love to do," Azarenka said. "It's such a great feeling to play without pain and that's what's important for me at the moment.
"I think getting the game together and the timing is a long process," she added. "But the important thing is that I'm there and feeling 100%. My focus is there. My desire and concentration is there. So that's all I can ask for in myself."
These two have played once and the former world number one got the better of Jovanovski four years ago at the same stage at Wimbledon, when she ousted the Serbian in straight sets.
The fourth-seeded Radwanska will play Casey Dellacqua of Australia in the second round of Wimbledon. She overpowered Cristina-Andreea Mitu in the opening round and is heading as the favourite against the Aussie in which is also their first meeting.
Dellacqua is having a remarkable season as she rose to her career best rankings after battling with surgeries and injuries last year. The Australian has a 22-10 win-loss record this season and has defeated players, such as Roberta Vinci, Vera Zvonareva and fellow countrywoman Samantha Stosur.
Schedule of Play
Li Na vs Yvonne Meusburger 4:00 pm IST, 6:30 am ET and 10:30 am GMT start
Kurumi Nara vs Venus Williams 4:00 pm IST, 6:30 am ET and 10:30 am GMT start
Radwanska vs Casey Dellacqua 5:30 pm IST, 8:00 am ET and 12:00 pm GMT start
Petra Kvitova vs Mona Barthel 8:30 pm IST, 11:00 am ET and 3:00 pm GMT start
Victoria Azarenka vs Bojana Jovanovski 9:00 pm IST, 11:30 am ET and 3:30 pm GMT start
Where to Watch Live
The day's action is scheduled for 4:00 pm IST, 10:30 am GMT and 6:30 am ET start with live coverage on Star Sports 1 and Star Sports HD1 in India and live streaming option HERE and HERE. International views can catch the action HERE and HERE or listen to the action free HERE.
BBC will broadcast matches live in the UK. Viewers can also live stream the action HERE or HERE. Catch the action live on ESPN in the United States or see live streaming HERE. SuperSport will telecast the action in South Africa and Sub Saharan Africa and viewers can catch the matches live HERE.