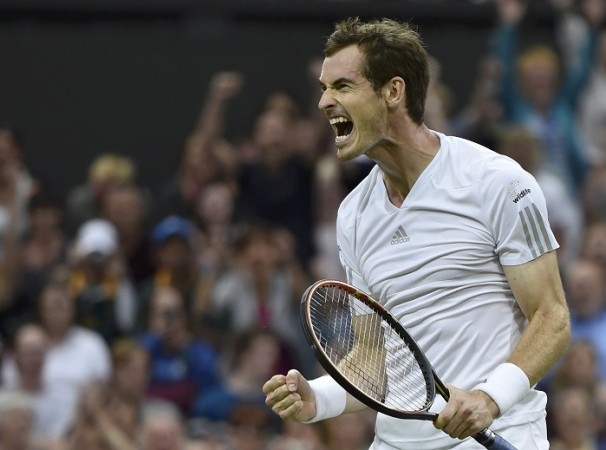 Home-town hope Andy Murray is set to face Bulgaria's Grigor Dimitrov, while seven-time Wimbledon champion Roger Federer will take on Stanislas Wawrinka in all Swiss quarterfinals clash at the All England Club.
Murray produced another stunning performance and dispatched big-server Kevin Anderson in the fourth round under the closed roof of the Centre Court. The defending champion, however, was distracted because of a rain-interruption but the Scot managed to book Dimitrov clash with a straight-set victory.
The two-time major champion has a 3-1 Win-Loss record against Dimitrov but he has been beaten once this season by the Bulgarian. Murray admitted that it will be a tough last-eight match for him as the 11th-seed is peaking at a right time.
"Now he's starting to come into his prime," said Murray of Dimitrov. "He's won a lot of matches this year. He's a tough player. Will be a hard match for me. It's a big opportunity for him, as well, playing on the Centre Court at Wimbledon for the first time. It's a great opportunity for him. Hopefully we can play a good match."
The 23-year-old Dimitrov came into the tournament with a victory in The Queen's Club and has been impressive so far in The Championships. He defeated Argentine Leonardo Mayer in straight sets and racked up 10 aces and 34 winners.
Dimitrov insisted that he is taking one game at a time after forcing his way in the second Grand Slam quarterfinals. However, the pressure will be on the Bulgaria-native as the British number one is yet to drop a set in the tournament.
"I take all the confidence from Queen's out on the court on the grass here," Dimitrov said. "I think it's been a great first week for me. The grass has been changing also a little bit around the baseline. It's getting a little tricky, which is a nice thing. Just looking for every match that I got to play."
Meanwhile, in all-Swiss affair 17-time major winner Federer will lock horns with countryman and reigning Australia Open champion Wawrinka in the last-eight clash. This will be the 16th meeting between these two and Federer leads the head-to-head encounters 13-2.
Wawrinka won their most recent clash in Monte Carlo's clay court, but on grass the Swiss maestro is altogether a different ball game. The 32-year-old is confident heading into the second week at the All England Club and said he is playing well at the moment and everything is working fine for him.
"I'm very pleased with the first week," Federer said. "Here we go into the quarter-finals. It's really exciting being so deep in the tournament, closer to the finish line. It's really nice how I'm playing. I'm serving well, moving well, returning all right. Everything I need to happen is happening to go deep in the tournament."
Wawrinka, who battled past Feliciano Lopez in the fourth round, said he is happy with his performance in the tournament so far and is looking forward to play Federer on their first match on grass.
"It's going to be fun, I hope," Wawrinka told ESPN. "Playing him on grass here at Wimbledon is going to be something special for sure. He's won so many times; he's playing so well. But I'm happy with the way I'm playing so far since the beginning of the tournament."
Schedule of Play
Andy Murray vs Grigor Dimitrov 6:30 pm IST, 9:00 am ET and 1:00 pm GMT start
Roger Federer vs Stanislas Wawrinka 9:30 pm IST, 12:00 pm ET and 4:00 pm GMT start
Where to Watch Live
The day's action is scheduled for 4:00 pm IST, 10:30 am GMT and 6:30 am ET start, with live coverage on Star Sports 1 and Star Sports HD1 in India and live streaming option HERE and HERE. International viewers can catch the action HERE and HERE or listen to the action free HERE.
BBC will broadcast matches live in the UK. Viewers can also live stream the action HERE or HERE. Catch the action live on ESPN in the United States or see live streaming HERE. SuperSport will telecast the action in South Africa and Sub Saharan Africa and viewers can catch the matches live HERE.