The season of Wimbledon has begun and all eyes are on the defending champion, Andy Murray. This will be the 128th edition of the Wimbledon Championship and it will be running for a fortnight at the All England Club, from 23 June to 6 July, 2014.
With the likes of Rafael Nadal, Serena Williams, Roger Federer, Maria Sharapova expected to perform, Wimbledon fans and tennis enthusiasts will need to be informed all about their favorite matches and stars during the course of the game. A better way to go about is to keep track of these with apps for iPhones and Android devices. Below are some of the apps that will help fans though the famed grass court matches: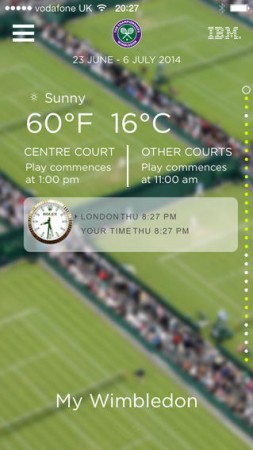 The app is the official app for Wimbledon and users will be able to follow all the action Live via this app. The app will be featuring -
- Results
- Order of play.
- Draws.
- News.
- Live Blog.
- Player profiles
- Wimbledon Radio
- Wimbledon video programmes
- Alerts
Apart from the above features, it will also help users who are attending the matches to locate facilities at the All England Club. Users will also be able to shop. A new update will also allow players to have a personalized 'My Wimbledon' feature and improved players features. The app is quick and comes with gesture-friendly navigation. There is also a standalone iPad version too.
The app can be downloaded from iTunes Store and Google Play Store.
This app will provide the users will all information regarding tennis scores and it is a statistics tracker.
Players will be able to share the match report on web and between devices. The app has various tracking options. Users will be able to insert comments, delay and cancel the match that players want to follow. Also its users will have flexible configuration for 'Tracking Depth.'
The new updates have fixed bugs and improvements of web report and French, Spanish, Russian, Italian and Hungarian translations have been added. The apps also has new look.
The app is available for download on Google Play Store.
Wimbledon Tennis Live Scores +
Users will be able to follow Live scores from the matches and the app will also include news and results from Wimbledon. The app will also provide the rankings and also some games that will question your knowledge of the game.
This app will also include tennis scores, Live from all tour and grand slam events. Challenge games in-app are fun to play. Most of the fans who downloaded the app have appreciated its draw sheet.
The app is available for download on Google Play Store.
Fans will be able to catch the latest action from Wimbledon 2014 via trustable BBC Sport app. Fans will be able to access news, stats, fixtures and results from BBC and also will be able to read articles and analysis pieces on the unfolding game. Notifications settings can be enabled for your favorite sport or player and users can add Quick Links to the main page. Though the app shows all the major sports events around the world, it will be paying equal attention to all of them. Further the app also has a Gossip section for those of them who want to be entertained.
The app is available for download on Google Play Store and iTunes Store.
This app will provide all the action from Wimbledon 2014 though Eurosports' app that comes with a new HD design, a new video section, newer look, smoother and faster. The app will provide users with real-time coverage of all the sports including Tennis. Users will not be disappointed with the app's Live scoring, result database, live chats and expert analysis of every game.
The app is available for download on Google Play Store and iTunes Store.