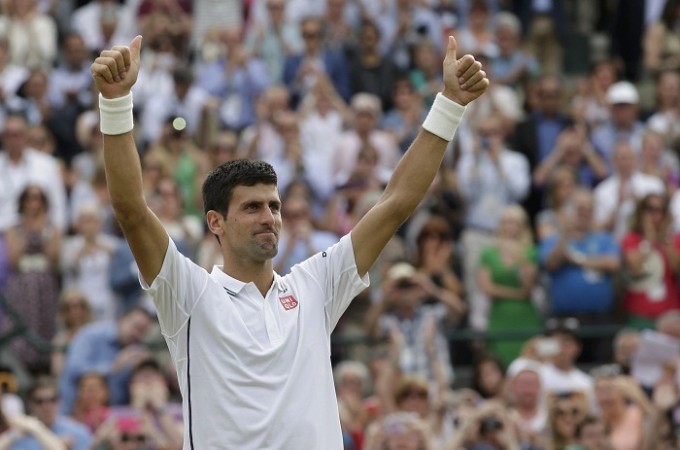 Another final for Novak Djokovic but not yet as he has a hurdle in the form of giant-slayer Grigor Dimitrov, who broke British hearts by dumping Andy Murray out of Wimbledon 2014.
The Serb will fancy his chances at the All England Club as both Rafael Nadal and Murray have exited the tournament. But hurdles in the form of seven-time Wimbledon champion Roger Federer and 'Baby Fed' Dimitrov will see him not taking anything for granted.
Djokovic, the current world no 2, does have a good record against Dimitrov - he emerged triumphant in three out of the four games he played against the Bulgarian. Incidentally, Dimitrov was triumphant at the Wimbledon junior title in 2008.
The Djoker does try to play down the fact that he is the favourite but the 2011 winner knows all eyes are on him now as he now is expected to take home the Wimbledon crown.
"It doesn't affect me at all because I just try to focus on my own matches - that's something I can influence," The Guardian quoted Djokovic.
After Nadal and Murray's unexpected exits, the top seed at Wimbledon was asked about the effect their losses would have on his chances. Djokovic replied that the media and fans are always hopeful of top-ranked players getting to the closing stages; and if it does not occur, it shows that in a Grand Slam no opponent can be taken lightly.
"There are new young players that are challenging the best and are winning against the best players in the world. That's why they deserve to be where they are now," he added.
Djokovic will head into the clash against Dimitrov as the favourite, however much he tries to underplay this. He has a lot to play for - he wins Wimbledon, he is world no 1 again.
The Serb is well ahead when it comes to experience but the way Dimitrov played against Murray means The Djoker has to be nothing short of his best.
"Dimitrov won in straight sets and he deserves respect for that. Of course, he must have played an incredible match. To beat Andy on grass is a very difficult challenge," Djokovic said.
Meanwhile, Dimitrov is participating in his first Grand Slam semifinal. But if he is on top of his game, like he was against Murray, the 23-year old does stand a chance.
"It's something that I've worked for, to get on to that stage, come out and switch to another gear," the Bulgarian said. "I know it's going to be a battle. I've just got to be really composed and do the things I've been doing".