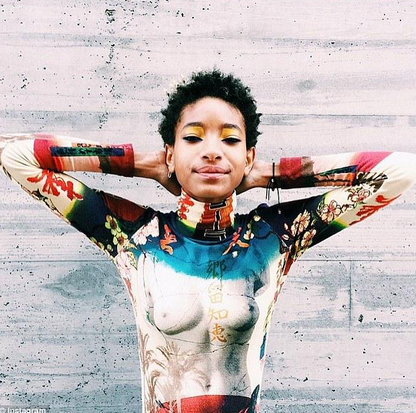 Will Smith's teenage daughter Willow has once again stirred controversy after donning an ensemble that has the picture of a woman's naked body.
The 14-year-old raised eyebrows after she changed her Instagram profile photo to that of a shot of her wearing a T-shirt resembling a naked woman. While the teen did not really break the photo sharing app's no-nudity policy, a few netizens are concerned, as they feel she is too young to be flaunting such provocative ensemble.
But she is no stranger to controversy, and Willow does not appear to be bothered about the backlash.
In May, Willow caused another controversy when a photo of her lying on a bed with 20-year-old Disney star Moises Arias, who was shirtless, started doing the rounds on social media.
But Willow's mom Jada Pinkett-Smith soon shot back at haters, saying there wasn't anything sexual about the photo.
"Just don't pollute something that's not dirty," she said in an interview with Net-a-Porter. "It's really tough. I feel like the connection to the value of women on a bigger scale has decreased tremendously. Even though you look and go, 'Women have so many opportunities,' it's like, 'Yeah, but at what cost?'
"Are women valued for being women, or are women valued when they have more masculine qualities? Men and women encompass both female and masculine energies, but it seems like when the feminine is present, it's not respected."
In the meantime, there are many who support Willow, noting that she is not flaunting her naked form like many other stars. Singer Miley Cyrus has posted her share of nearly naked pictures as part of the "Free the Nipple" campaign, and several others like Chelsea Handler and Scout Willis have protested Instagram's no-nudity policy.
In October, Handler bid goodbye to Instagram after the app took down a topless picture of her on a horse alongside a photo of Vladimir Putin riding a horse without a shirt.