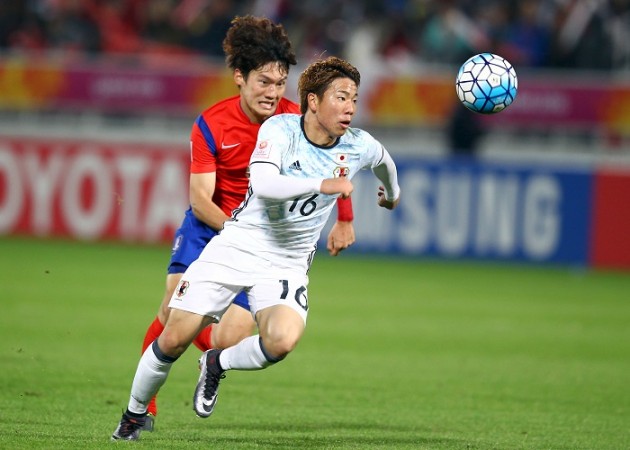 When Arsenal confirmed the signing of Japan international Takuma Osano from Sanfrecce Hiroshima, the immediate feeling would have been "OK, one for the future, but hopefully Arsene Wenger goes all out for an established striker in the summer transfer window." As talented as Osano might be, even Wenger suggested the striker has been signed not for the here and now, which means there is still a lot of job to be done for Arsenal in this transfer window.
Having lost out on the signing of Jamie Vardy, after the England international decided to stay with Leicester City, Arsenal have been linked with several big names, including Karim Benzema, Gonzalo Higuain, Romelu Lukaku and Alexandre Lacazette. So, to see a relatively unknown striker – he does have five caps for Japan – would have been underwhelming for all the Arsenal fans clamouring for a big-name forward.
However, Wenger's comments on signing the 21-year-old, who was named the J-League Rookie of the Year in 2015 and is highly-rated in Japan, suggests this is one of those signings that will, hopefully, pay off in the future, rather than the present.
"Takuma is a talented young striker and very much one for the future," Wenger told the club's official website. "He has had an impressive start to his career in Japan and we look forward to him developing over the next couple of years."
While Asano, who is Arsenal's third Japanese player after Junichi Inamoto and Ryo Miyaichi, has been tipped to train with the first-team – and the cynical ones will say the signing will also help the club sell a lot of shirts in Japan – Wenger should keep that "we want an established striker" target in mind for the rest of the transfer window.
The problem, of course, is finding someone at the right value – Vardy at around £20 million was seen as good value, which is why Wenger made a move, even though the striker is 29 – especially in this inflated transfer market.
Wenger, though, will know the dangers of not making a move, after seeing his team lose form and belief in the second half of the season, which in turn, derailed their Premier League title challenge.
As good as Olivier Giroud might be – and he is proving to be a really good striker with impressive performances for France in Euro 2016 – Arsenal need a more mobile, will-get-you-25-goals-a-season forward, someone, who can do the job that Giroud does, which is link up play, while also giving the option of running in behind a defence.
Those kinds of strikers, unfortunately, do not just grow in trees, but Wenger, nevertheless, needs to identify the best option and make sure that Arsenal get that man, even if they might end up overpaying a bit.