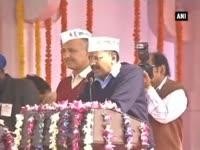 Having formed the government for the second time in Delhi, Arvind Kejriwal's Aam Aadmi Party says that it will not rush things this time around. The party has decided to take its time and systematically sort out things in order to be successful.
During their previous tenure, the party was under constant pressure from Congress, with whose help they had come to power, to keep deadlines with regard to assignments, reports Hindustan Times.
Kejriwal, who was sworn in as the Chief Minister of Delhi on Saturday, informed everyone that the party would go about its business with a relaxed approach.
AAP got an absolute majority by winning 67 of the 70 seats in the recently-concluded Delhi Assembly elections.
"I request the media not to ask me about deadlines. We have a mandate to serve the people over the next five years. But I can assure we will work 24X7. I was down with fever but I took Crocin before coming here today," Kejriwal was quoted as saying during the oath-taking ceremony.
Manish Sisodia, Deputy CM of Delhi, while stressing on the 70 points for Delhi's development, supported Kejriwal's decision not to do things hastily. He also added that serving the people by curbing corruption practices, controlling inflation of basic commodities and meeting the everyday needs of the people would be among the party's priorities.
At the Ramlila Maidan, Kejriwal, who accepted the mistakes made during his last tenure, said that the approach of governance would be very different this time and that the national capital would reach new heights.
He also asked for people's cooperation to build a better Delhi. Kejriwal urged everybody to pay their taxes in order to avoid harassment, and help in the all-round development of the capital city.
The AAP chief promised the people that the taxes paid by them would be utilised for improving the infrastructure of the city and in boosting women's safety.