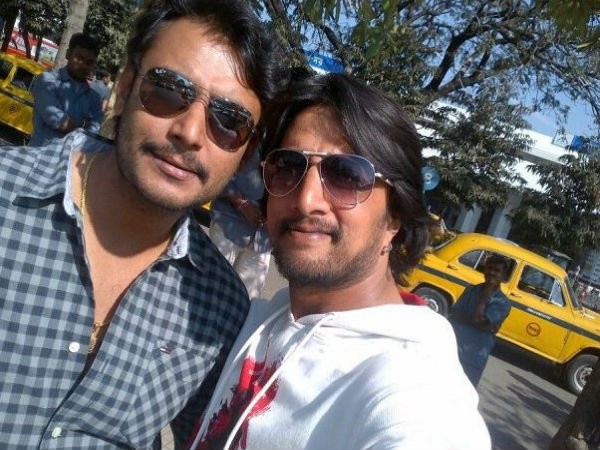 Sandalwood fans have been long waiting to see Sudeep and Darshan together in a film. Now, Kiccha has opened up on the issue whether they would ever act together in a film.
Sudeep was at Global Academy of Technologies in Bengaluru recently where a fan asked him that when would it possible for them to act together. The actor was at his wittiest best as he said why it is unlikely to happen.
"When I was a kid, my mom used to give me whatever I used to ask her. Once I asked her why the sun and the moon would not appear together. She said, my son, the sun arrives in the day and the moon in the night, both possess contrastingly different characters. So, the two stars are happy in their places," he said amid cheers from the crowd. The video of the incident has now gone viral.
Sudeep and Darshan, who were once considered as rivals, maintained a warm relationship till recently. "Me & Sudeep aren't friends anymore. We are just actors working for Kannada industry. No more speculations please. That's the end of it," the challenging star posted on Twitter in March indicating that their friendship has ended.
On the professional front, Darshan and Sudeep have tasted success with their recent movies like Hebbuli and Chakravarthy. Kiccha's film was released in February and it has done good business. Whereas the Challenging Star's flick Chakravarthy was released last week and it ended its first week on a high note.