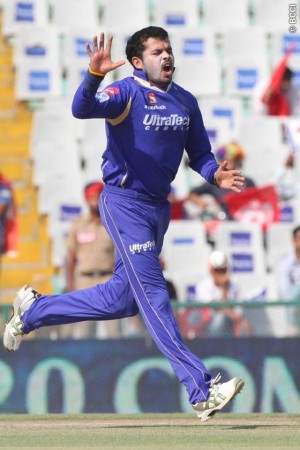 The fate of Indian cricketers S Sreesanth, Ankeet Chavan and Ajit Chandila, who were accused in the Indian Premier League (IPL) spot-fixing scandal, will be decided on Friday. The Board of Control for Cricket in India's (BCCI) Disciplinary Committee will meet to discuss the findings of BCCI Anti-Corruption Unit chief Ravi Sawani's report on the scandal that rocked IPL6.
Sreesanth, Ankeet Chavan and Ajit Chandila of Rajasthan Royals were arrested by the Delhi police on 16 May over charges of spot-fixing in the IPL matches. They were booked under section 240 (cheating) and 120B (criminal conspiracy) of Indian Penal Code (IPC). They were also suspended by the BCCI and their club.
More punishment seems to await the tainted cricketers, as Ravi Sawani has found them guilty on several counts.
The one-man probe into the IPL 6 spot-fixing scandal has recommended a ban on all the six players of Rajasthan Royals players - Sreesanth, Chavan, Chandila, Amit Singh, Siddharth Trivedi and Harmeet Singh - finding them guilty after analysing police reports, reported The Indian Express.
"I am fully convinced that Sreesanth was part of the fix and, therefore, I confirm my earlier findings of holding S Sreesanth guilty of the offences listed in my initial report," The Indian Express quoted Sawani's report.
According to the daily, all six players were found guilty on several counts:- underperforming for a reward; ensuring the occurrence of an event during a match; knowing it is the subject of a bet; soliciting other players for match-fixing in the IPL; receiving payment or gift for the possibility of bringing cricket into disrepute; failing to report an approach by bookmakers to fix a match to the BCCI anti-corruption unit; and failing to report to the BCCI ACU the knowledge of another player being approached by a bookie.
The BCCI Disciplinary Committee, comprising of N Srinivasan, Arun Jaitley and Niranjan Shah, will now deliberate on the fate of the tainted players after studying the report of the BCCI Anti-Corruption Unit that was formed to probe into the alleged spot-fixing scandal that marred IPL sixth edition. The findings will be later presented at the BCCI general meeting on 29 September.
It may be recalled that Sreesanth, Ankeet Chavan, Ajit Chandila and several others were sent behind bars on charges connected to spot-fixing. Several people, including Gurunath Meiyappan, son-in-law of the Board of Control for Cricket in India (BCCI) chief N Srinivasan and Team Principal of Chennai Super Kings (CSK), were arrested for their involvement in the scandal. Rajasthan Royals co-owner Raj Kundra was also questioned by the police for his alleged involvement in gambling before the BCCI suspended him from the club till the pendency of inquiry.