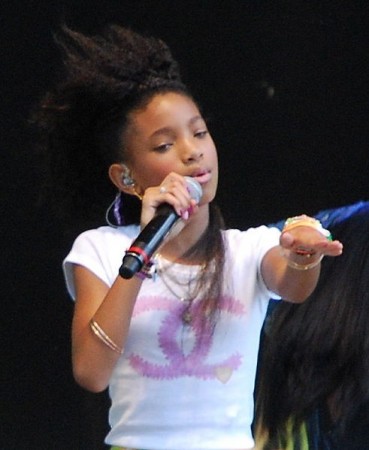 Will Smith and Jada Pinkett Smith's 13-year-old daughter Willow in bed with a shirtless actor, 20, has kicked up a storm on the Internet, with many terming it perverted and inappropriate.
Moises Arias does not seem to be touching the fully-clothed Willow in the black and white picture posted on Instagram. But it has still managed to cause a controversy, and a number of people feel that Will and his wife should exercise more control over their children.
"I blame the parents! A 13 year old should not be hanging out with a 20 year old! Innocent or not!" a message on TMZ read. "13 & 20 year olds don't belong in a bed, intimate or otherwise. Not cool. Not ok. Her dad needs to pay him a visit and her mom needs to have a loooong talk with her about appropriate behavior. Bad bad bad," another noted.
Arias, best known for his role in "Hannah Montana," appears to be a friend of the Smiths as several photographs show him hanging out with Jaden as well as Willow at the recently concluded Coachella music festival. Arias is also friends with "Keeping up with the Kardashians" stars Kylie and Kendall Jenner.
Off late, Will and Jada's parenting skills have come under fire after it was reported that both Willow and Jaden were allowed to spend an entire weekend without adult supervision at the Coachella music festival.
Jada and Will have a no punishment rule at their home, as they feel it breeds negativity. But a source close to the family said back in 2012 that the two actors were mulling about exercising more control on Jaden and Willow's freedom.
"Will and Jada have done everything in their power to bring up strong, independent children, but now they feel that maybe they have given Willow and Jaden too much freedom," a source told National Enquirer at the time, according to MTV.
"They're looking at tougher, more structured schools, limiting their kids' computer access and TV time and keeping close tabs on their friends and social activities.
"Will and Jada realise it's hard being the children of superstars, but they're confident they can change their kids' behavioural problems and get them under control with a heaping of tough love." However, it appears they did not go through with the plan.
[ED:VS]