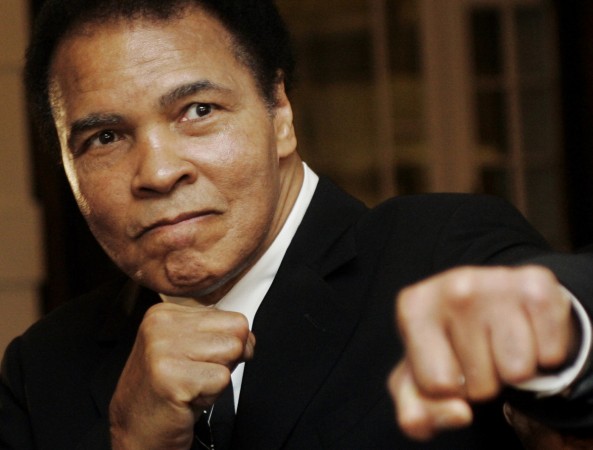 Boxing veterans and big names from the entertainment circuit will be present during the funeral of Muhammad Ali in his home town Louisville, Kentucky, on Friday. The legendary boxer, an inspiration to millions, died in a hospital in Phoenix, Arizona, on June 3, 2016, due to a "septic shock", as mentioned by one of his family spokespersons.
Ali was suffering from the Parkinson's disease for more than three decades and he was admitted to the hospital owing to a respiratory issue. He, however, couldn't fight back in the battle against survival this time around and was declared dead at the age of 74.
Hollywood superstar Will Smith, who played the main character in the biopic of the legend -- Ali -- back in 2001, will be present during the funeral of the boxer and will also be carrying his coffin. Smith was nominated for an Academy Award as well as for the Golden Globe award for his performances in the movie.
Also present as a pallbearer on Friday will be Lennox Lewis, yet another boxing great. Lewis became the undisputed heavyweight champion in boxing after defeating Evander Holyfield in 1999.
"I am humbled, and honoured, beyond words to help see my hero, Muhammad Ali, off to his final resting place," the BBC quoted Lewis as saying in a statement. "Ali has always been an enormous inspiration to me, not only in my boxing career, but also in life. His journey began 74 years ago, and in that time, he not only transformed the world of sport, he used sport to transform the world.
"It's my extreme pleasure, and complete honour, to be asked to help him complete the final steps of his life journey," the 50-year-old added.
The other pallbearers will be Ali's cousins John Grady and Jan Wadell, nephew Ibn Ali, former brother-in-law Komawi Ali, family friend John Ramsey, as well as Jerry Ellis, the brother of Ali's former sparring partner Jimmy Ellis.
The BBC had earlier confirmed that many world leaders, including former US President Bill Clinton, Turkey President Recep Tayyip Erdogan and King Abdullah of Jordan, will be speaking during Ali's funeral. Also among the speakers will be Ali's widow Lonnie, daughter Maryum, sports journalist Bryant Gumbel as well as American veteran entertainer Billy Crystal.