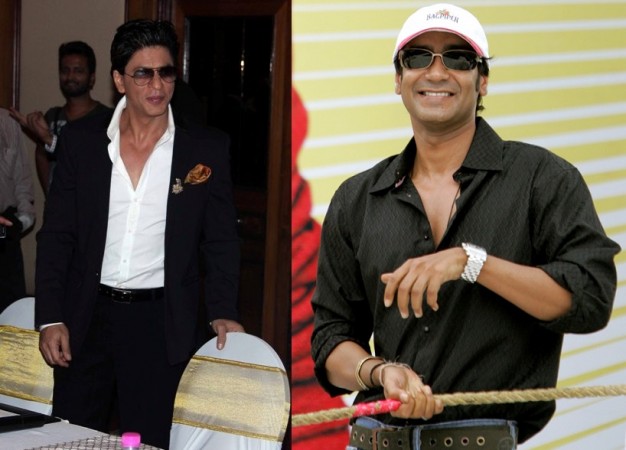 Shah Rukh Khan and Rohit Shetty have worked together in two films – "Chennai Express" and "Dilwale" -- and now the buzz is that the two will once again join hands for "Golmaal 4", which has been Ajay Devgn's film.
Whether SRK will play any role in the film or will produce the flick has not been confirmed yet. According to a source, he might be involved in the film only as a producer as Shree Ashtavinayak Cine Vision, who had the rights of the Golmaal franchise, has reportedly downed shutters, Deccan Chronicle reported.
Hence, it seems that SRK will come to the director's rescue and will be the part of the production team. But, as earlier said, "Golmaal" has been Ajay Devgn's film and SRK coming on board might not go down too well with him.
SRK and Ajay have never really been good friends, though the former is the best buddy of Ajay's wife Kajol.
However, after the two were spotted together in Bulgaria, there are chances that SRK and Devgn might come together in future for a project.
"Shah Rukh and Ajay haven't been best friends exactly but after their meeting in Bulgaria, they may have mended fences. It will be interesting to see if Ajay gives his nod to a project produced by Shah Rukh," Deccan Chronicle quoted a source as saying.
Between all this, there were reports that "Golmaal 4" will be directed by Priyadarshan and not Rohit Shetty.
"Rohit and Shah Rukh discuss a lot of movies and they have been sharing a great equation since Chennai Express. There's a good comfort level between them and they often bounce story ideas off each other. Rohit is also keen to remake Angoor with Shah Rukh but that will happen at a later stage," the insider said.
Currently, both of them are busy shooting the last leg of their upcoming flick "Dilwale". The film, which features Kajol, Varun Dhawan, Kriti Sanon, will hit the theatres on 18 December.