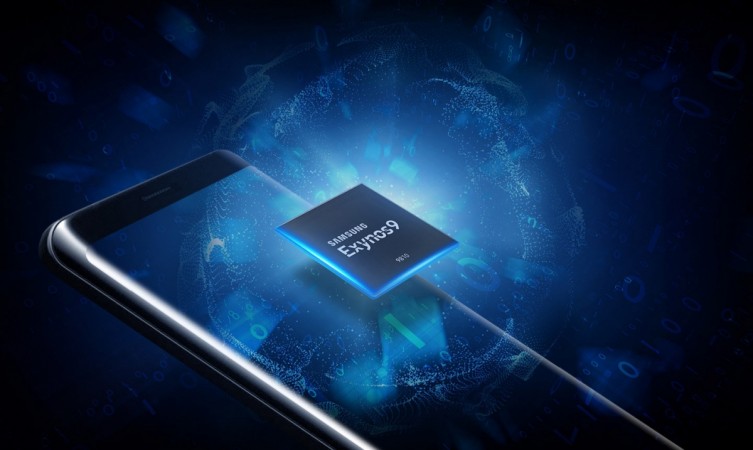 The first benchmark results for Samsung's Exynos 9810 processor, which will power the company's upcoming Galaxy S9 smartphone, has surfaced online. If compared to Qualcomm Snapdragon 845's benchmark score, the Exynos 9810 version has the upper hand in both single-core and multi-core scores.
According to a listing on the Geekbench website, the Exynos 9810 variant of the Samsung Galaxy S9 with the model number SM-G960F was managed to score 3648 and 8894 in single-core and multi-core tests, respectively.
The benchmark scores also showed significant improvement over the Exynos 8895 processor, which was featured in the Galaxy S8 and Galaxy Note 8 devices. For instance, the Exynos 8895-powered Galaxy Note 8 reportedly scored 1960 and 6473 in single-core and multi-score tests, respectively.
Better than Snapdragon?
When it comes to Qualcomm's Snapdragon 845, which will power select Galaxy S9 variants like the North American version, it managed to score 2400 in single-core test and 8400 in multi-score test.
Take a look at the screenshot of the Geekbench benchmark below: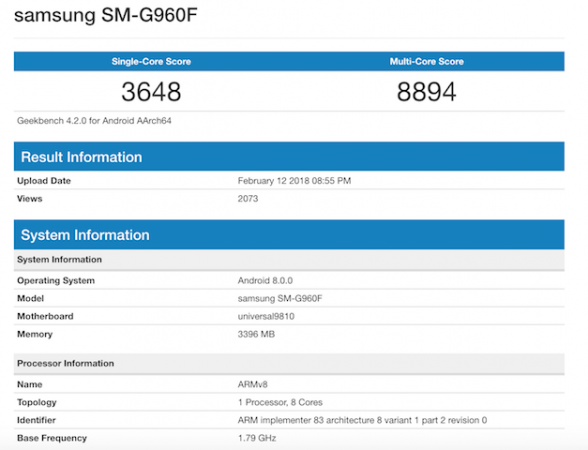 It's worth mentioning here that benchmark results are not the ultimate yardstick to measure a device's performance. Considering that Samsung is yet to launch the Galaxy S9 and the results of real-world tests may significantly vary, it's always advised to wait for the official device to be out in the market.
What we know so far
According to rumors, the Samsung Galaxy S9 is likely to sport a 5.8-inch QHD+ Super AMOLED screen and a 3,100mAh battery while the Galaxy S9+ will feature a similar display with an increased size of 6.2 inches and a slightly larger 3,600mAh battery.
As for the storage, the Galaxy S9 is rumoured to come in two variants, including 4GB RAM+64GB storage and 4GB RAM+128GB storage. The Galaxy S9+, on the other hand, is likely to be available in 6GB RAM+64GB storage, 6GB RAM+128GB storage and 6GB RAM+256GB models.
Samsung is widely expected to debut Galaxy S9 series on February 25, a day ahead of the Mobile World Congress (MWC) 2018, which is set to kick start on February 26 in Barcelona.
Following the unveiling, the new Samsung Galaxy S9 series is expected to hit stores around mid-March.