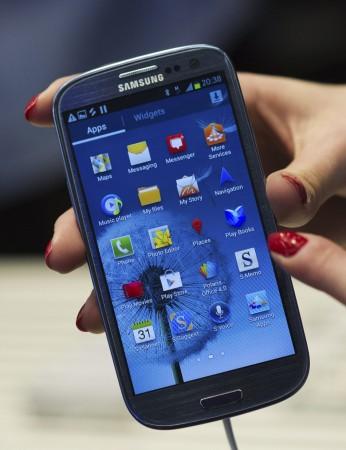 Samsung Galaxy S3 is the buzzword in the tech world at the moment with reviewers giving rave reviews but the latest report of explosion could affect its sales and give an edge to the much-anticipated Apple iPhone 5.
A Dublin-based consumer posted comments and photos on a website on Wednesday, saying his Galaxy phone "exploded" while mounted on his car dashboard, reported Reuters. He wrote that while he was driving, "suddenly a white flame, sparks and a bang came out of the phone."
"There's no confirmation it was a fault with the phone. It may actually have been caused by a combination of my car mount and my car's heating system," he added.
Samsung Electronics said that the company is looking into the reports of Galaxy S3 explosion and would reveal the result of the investigation next week.
"Our initial investigation found no fault with the phone, but we'll conduct further investigations to decide the exact cause of the problem," Reuters quoted Samsung Electronics spokesman James Chung as saying.
The latest report on Samsung Galaxy S3 could costly for the company as it comes just a few days after sources from Apple claiming that its latest product iPhone 5 would put Samsung Galaxy S3 to shame.
A source close to Foxconn that assembles iPhone and other Apple products recently claimed that Apple's iPhone 5 will put Samsung Galaxy S3 to shame.
Speaking at Foxconn parent company, Hon Hai's annual shareholders meeting, CEO Terry Gou reportedly said that Apple will overtake Samsung soon.
"Consumers should wait for the iPhone 5 because it will put the Samsung Galaxy S III to shame," Focus Taiwan quoted Foxconn CEO Terry Gou as saying in China Times. "With (Foxconn's) marketing and manufacturing strengths and Sharp's key technologies, the two will be able to defeat their arch-rival Samsung," the report added.
It may be recalled that consumer watchdog Consumer Reports also reported a few months ago that Apple's latest iPad generates more heat than the previous versions.
Samsung Electronics launched its flagship smartphone Galaxy S3 last month and has received good response from gadget lovers all over the world.
Samsung Galaxy S3 Specifications
The international variant of Samsung Galaxy S3 sports a super AMOLED capacitive touchscreen, 16M colours, 720 x 1280 pixels, 4.8 inches (306 ppi pixel density), multitouch, Corning Gorilla Glass 2 and TouchWiz UI v4.0. It features a 1.4GHz quad-core processor and 1GB RAM.
Measuring 136.6 x 70.6 x 8.6 mm and weighing 133 grams Samsung Galaxy S3 features Android 4.0 Ice Cream Sandwich, 4G LTE connectivity, 2GB of RAM, a dual-core Snapdragon S4 processor Quad-core 1.4 GHz Cortex-A9 CPU, Mail-400MP GPU.
Apple iPhone 5 Specifications
ccording to rumours, Apple's upcoming product iPhone 5 has features like - 4-inch Retina display, an A5X Variant chip, 1GB RAM, iOS 6, 4G LTE technology, Near Field Communication (NFC) technology, improved Siri, liquidmetal casing, an 8 megapixel (or even higher) rear camera, a 2 megapixel front-facing camera for video chatting and a much-improved battery life.