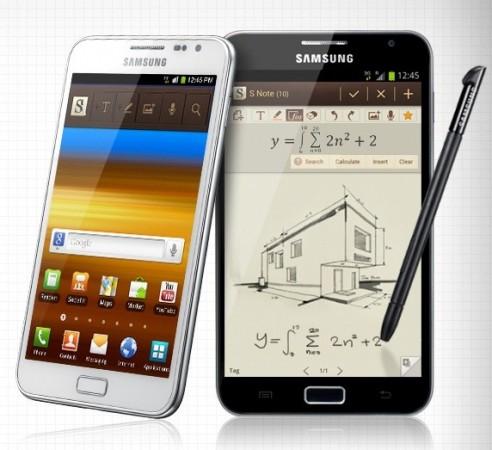 Smartphone titan Samsung is reportedly planning to roll out a successor to the Galaxy Note in August this year during the Internationale Funkausstellung Berlin 2012 (IFA), a consumer electronics show hosted in Berlin.
Presumably named as "Galaxy Note 2", the highly anticipated smartphone is expected to arrive with blown-up specifications, high-end featuers and a massive screen size which may exceed than the 5.3-inch display that's sported on the available model.
If reports are to be believed, than the Galaxy note successor would pack a quad-core processor, which offers improved processing speed besides enhanced multitasking functions.
Galaxy Note, which is often touted as a tablet-phone hybrid, was one of the key factors behind Samsung's success in the smartphone market worldwide. According to the South-Korean manufacturer, over five million handsets of Galaxy Note were sold across the world. Earlier in March, the company posted an increase in sales of its Galaxy Note by a whopping two million.
Besides a quad-core process, Galaxy Note 2 is also speculated to arrive on Android's latest 4.1 Jelly Bean OS and a bigger 5.5-inch display. It's is also expected that the device may pack either a 12-megapixel camera or a 13-megapixel snapper on the front. Considering the overwhelming attention the current device has drawn since its debut last year, Samsung is anticipated to score far more success with its forthcoming "phablet" on account of its speculated features.
Korean website MK Business News was the first to break the news of the release date and rumored features of Galaxy Note 2.
"There are also talks of improving the camera resolution to 12.0 or 13.0 megapixels, up from current 8.0 megapixels, but this may be changed depending on other factors. It will not, however, showcase the unbreakable plane (UBP) display technology, a precursor to the flexible display. UBP will most likely be applied for the next product released after Galaxy Note 2," an official, familiar with Samsung's product development, was reported saying by the website.
Reports also suggested that the Samsung smartphone along with Apple's much-awaited iPhone 5 may go on sales in the markets around the same time, with the Cupertino giant reportedly mulling to unveil its fifth generation smartphone around September or October.