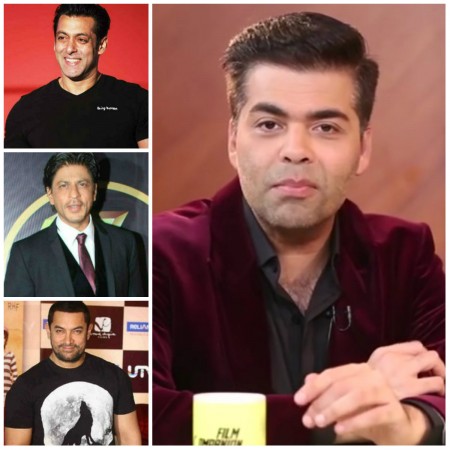 Even as fans want to see Salman, Shah Rukh and Aamir Khan together on the big screen, how about seeing the three Khans of Bollywood play homosexual characters? Well, Karan Johar feels the three superstars would have no qualms in portraying such characters.
At the trailer launch event of "Aligarh", which revolves around the life of a homosexual professor played by Manon Bajpai, Karan Johar was asked if he thinks big stars like Salman, Shah Rukh and Aamir Khan would be comfortable playing homosexual characters. The filmmaker replied in the affirmative, stressing that the three Khans will have no problem playing such roles if the script is good.
"I hope that superstars like Shah Rukh Khan, Salman and Aamir for that matter will totally engage in a film like this. They will surely breathe through cinematically," Pinkvilla quoted KJo as saying. Now, it will be interesting if Karan plans to make a film on homosexuality, taking the three biggest superstars of the industry if the agree to do such a film.
"Aligarh", starring Manoj Bajpai and Rajkummar Rao, is based on a true story of Dr. Shrinivas Ramchandra Siras. He was a Marathi professor at the Aligarh Muslim University and was suspended from his job due to his sexual orientation. Siras later died under mysterious circumstances. Manoj Bajpai plays the lead role of Siras and Rajkummar Rao will be seen as a journalist in the film.