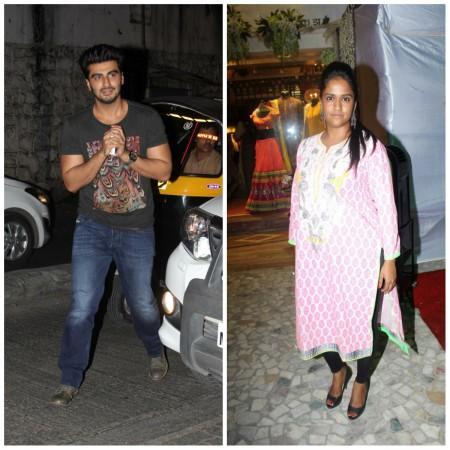 Salman Khan's youngest sister Arpita Khan is all set to wed businessman Aayush Sharma in Hyderabad, next year. While much has been made of the lavish affair, a special interest is now being taken in the guest list.
Bollywood's wonder boy Arjun Kapoor and Arpita was in a 'serious' relationship for 2 years, until she decided to break up with him.
"My first and only serious relationship so far was with Arpita Khan. We started seeing each other when I was 18 and it lasted for two years. I was also already attached to Salman bhai, but it was during the shooting of "Maine Pyaar Kyun Kiya" that our relationship started," the actor told Times of India.
Like a good boy, Kapoor even informed 'Salman Bhai' and his family about their relationship because he wanted to give them a first-hand account of it.
While the cause for the break-up is unknown, the actor had reportedly said he had lost direction post the unfortunate separation.
However, Kapoor, who was working as an assistant director on the sets of Salman's "No Entry", said that Salman was more like an older brother to him.
"Even after breaking up, I would hang out with him. He was my friend, my father-figure, older brother, everything at that point. He was an older brother I never had and he made me realise how important it is to have an older brother," he said.
Kapoor, who weighed 140 kilos and was assisting Nikhil Advani for "Salaam-e-Ishq", had found a role model in Salman. Even today, he credits his success to the superstar and says he wouldn't have made a six-pack abs had it not been for him.
"I obviously inform him about what I'm doing, where I'm shooting and stuff. He is someone who won't tell me do this or do that. Each actor has to find his own identity and he has given me that chance to explore myself," Kapoor told NDTV, about the equation he shares with him.
Going by the comfortable bond the two actors share, it's not hard to see that Kapoor, in all probabilities, will be invited to ex-girlfriend Arpita's wedding. But, will the "Gunday" actor be gutsy enough to attend it. Only time will tell.