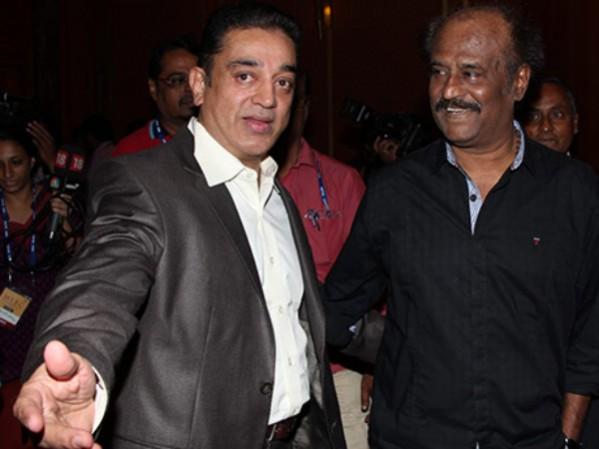 Rajinikanth and Kamal Haasan, the two big stars of Kollywood with great political aspirations, have shared the stage again after the recently-held Natchathira Vizha in Malaysia. They were spotted together at the launch event of Kizhakku Africavil Raju, a motion-capture film starring late MGR.
Before attending the event, Rajinikanth had a short interaction with the reporters outside his Poes Garden residence. A series of questions were shot at him and the superstar responded to as many as possible.
When asked about Kamal Haasan's entry into politics, Rajinikanth said that he didn't think that Kamal would enter politics but had his best wishes for the Ulaganayagan. The reporters then quickly asked whether he would join hands with him to which Rajini replied, "Only time will tell, we will have to wait and see."
He felt that the present parties are following the ideals of MGR to some extent and stated that he was ready to contest elections even if they were held in the next six months.
Earlier when Kamal Haasan was asked about the possibility of joining hands with Rajinikanth, he had said, "There are questions as to whether I will join hands with Rajnikanth in politics. If Rajnikanth enters politics, I will join hands with him."
Rajinikanth and Kamal Haasan are making strides towards their political goals but they share different ideologies which apparently makes their alliance an unlikely one.
Their political aspirations got a boost following the death of the then Tamil Nadu Chief Minister J Jayalalithaa. As the DMK had weakened after its patriarch M Karunanidhi retired from active politics, it created favourable conditions and the much- needed vacuum in the political space for the actors to finally take the plunge.
A poll conducted by India Today-Karvy has stated that Rajinikanth is the most preferred chief minister candidate after DMK's Stalin. It also indicated that the superstar gets 16 percent vote share with 33 seats to his kitty if the elections are held now.