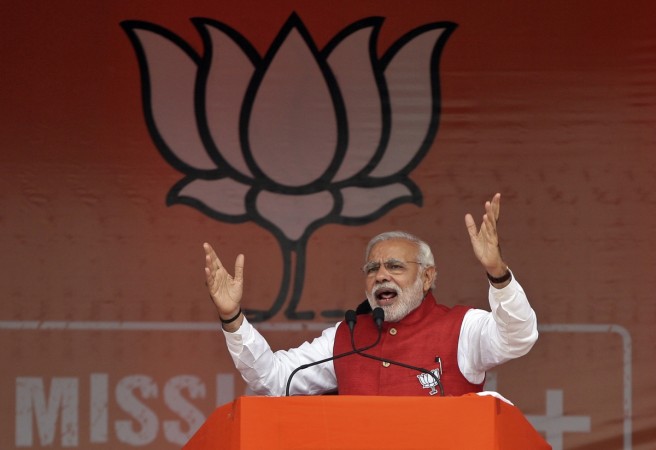 Prime Minister Narendra Modi has reportedly threatened to resign from the Prime Minister's post because of the string of controversies caused recently by RSS leaders. Modi's statement came after repeated attacks from the Congress and other opposition parties for the alleged forced conversions and contentious statements by leaders from BJP's parent body, reports India Today.
"Modi, who held a meeting with the RSS leaders to express his disappointment, also said that he does not have greed [sic] to remain in the post if the image of the government is hampered by the leaders who keep making controversial remarks," said a report in the Marathi daily Maharashtra Times. Following Modi's reaction, RSS gave the government the go ahead to take action against leaders who indulge in making controversial statements, the newspaper said.
Modi told the top brass of RSS that the reputation of the government was getting sullied because of the callous remarks made by some their leaders. BJP leaders feel that their government has come to power on the issue of good governance, and by such irresponsible comments it was getting a colour of fanaticism, the report said.
Lately, leaders from RSS and other organisations affiliated to the Sangh have been giving controversial statements. "Modi has therefore expressed disappointment over such rabble rousers. The RSS, which has intervened into the matter, has assured Modi that it will take stern action against the leaders who make controversial remarks," the report added.
It further said that the impact was straightaway evident as BJP president Amit Shah did not waste much time in suspending Rajasthan's state unit chief and Kota MLA Prahlad Gunjal for allegedly abusing and threatening a Chief Medical and Health Officer (CMHO) for the transfer of a male nurse.
The police had registered an FIR against Gunjal under various sections of IPC for intimidating and threatening the officer over phone. The BJP MLA had allegedly told the Kota district CMHO Dr RN Yadav that he would cut his hair, hit him with shoes, slap, and kick him for not issuing transfer orders to the relative of a party worker.