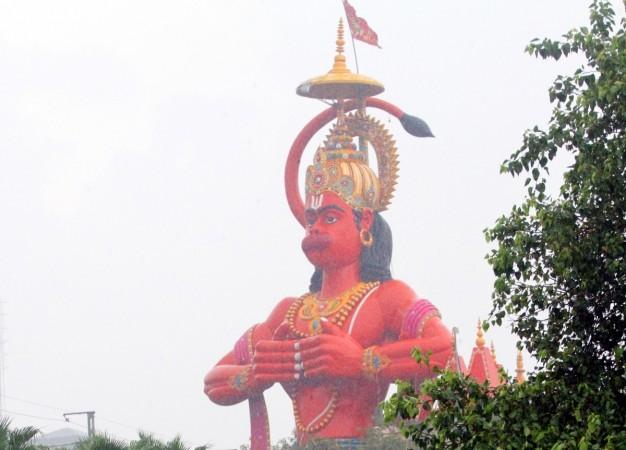 While expressing anger over the illegal encroachments around the iconic 108-feet tall Hanuman statue in central Delhi's Karol Bagh area, the Delhi High Court on Tuesday asked whether God will hear prayers of those who pray from temples built illegally?
The Delhi HC's observations comes days after it had asked the civic authorities in the capital if the statue of Hanuman statue between Jhandewalan and Karol Bagh metro stations, can be airlifted as it is reportedly adding to the traffic congestion in the area.
The court was hearing a case relating to removing encroachments from around the 108-feet tall Hanuman statue.
"Will prayers reach God if you pray from illegal encroachments on pavements? What is its sanctity," a bench of Acting Chief Justice Gita Mittal and Justice C Hari Shankar said.
They also warned that everyone responsible for unauthorised constructions, including the temple authorities, "will be dealt with".
"Even if we can't remove the temple, people who are responsible for it will meet their fate," the Bench said, after it was informed that the idol was built in 2002, and the temple along with it was run by a trust.
The court has also asked the municipal corporation of North Delhi, under whose jurisdiction the Karol Bagh area falls, to submit a report on the construction of the roads along which the encroachments stand.
Earlier the bench had debated whether the idol can be aitlifted after a non-government organisation had filed a petition alleging that there have been many encroachments in the area surrounding the Lord Hanuman statue, which have to be removed; and this is possible only if the deity is moved from that place.
In fact, the bench also cited an instance from the United States where an entire skyscraper was airlifted.
"Consider if the statue can be airlifted. Speak to the Lieutenant Governor... In the US, entire skyscrapers are shifted as a whole," the bench had said and had also reprimanded the municipal authorities for not wanting to take responsibility for illegal constructions.