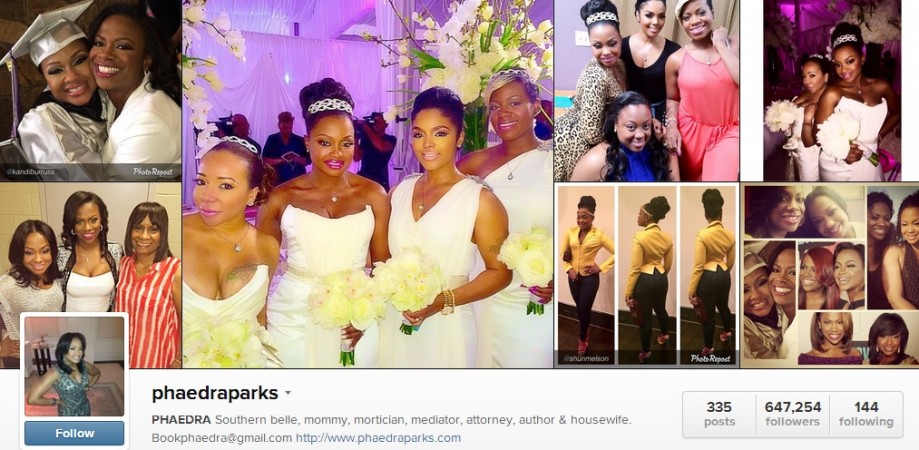 Speculations are rife that Real Housewives of Atlanta star Phaedra Parks will divorce her husband, Apollo Nida, now that he has been sentenced to eight years in prison after being convicted in a money-laundering scheme worth $2.3 million.
Nida, who was sentenced on Tuesday after he pleaded guilty to bank fraud and identification theft, is serving only a fraction of the maximum sentence of 30 years, as he made a deal with federal agents, reports said.
The RHOA star was absent from the sentencing, and several reports noted that she was distancing herself from her husband and his legal troubles.
Nida, too, appeared unsure about the state of his marriage, as he told Atlanta radio station V-103 in May that he is doubtful if it would last.
"I think Phaedra, in a perfect world, should be supportive as a wife should be... But if she chooses to derail from the plan, then that's what she chooses to do," he told Atlanta radio station V-103 in May.
"Whatever's been thrown at me, I deal with it. I would like to say I would want her to stay around and do what a wife should do. But tomorrow's not promised."
Sources close to Parks revealed to the media that she is holding up well, and that she is distracting her mind from all the legal trouble by focusing on her work. But she is reportedly worried about her sons -- Ayden and Dylan – who will be without a father during their important years.
"She knows just how important it is for her children, and young black boys in general, to grow up with a father," an insider told HollywoodLLife. "It's devastating to her that her two boys will miss their father during some of the most precious growing years of their lives."
Ayden is yet to enter kindergarten, and Dylan is just over a year old. Many believe eight years is a long time for Parks to wait for Nida, and that she should break free for both her as well as her children's well-being.
Parks "wants nothing, but the best of the best for herself and children, and the fact her husband is about to go away for a long time, leaves a bad taste in her mouth," the insider continued. "She's embarrassed but knowing her, she'll be all right."