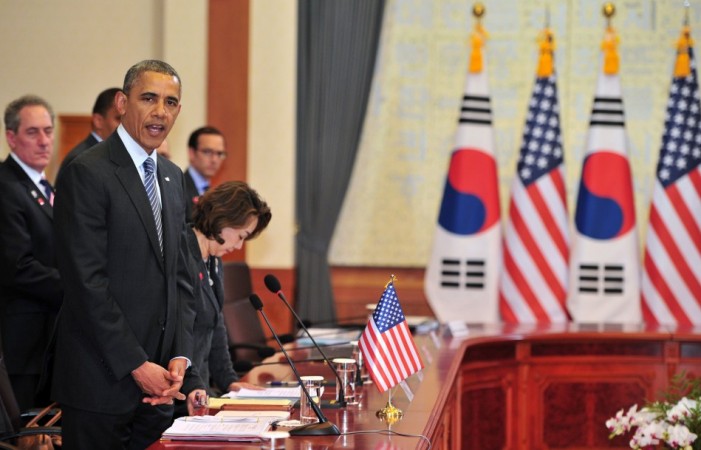 President Barack Obama arrived in South Korea on Friday amid growing fears that North Korea might conduct its fourth nuclear test coinciding with the high-profile visit that seems to have displeased North to the highest degree.
While North Korea has made its intentions pretty clear on the nuclear test, which Kim Jong-un has vowed to conduct; the only question that tends to linger is 'when' will the test be carried out.
Pyongyang has already showed its bitterness about the much hyped meeting of its two all-time foes earlier on Friday, when two North Korean patrol vessels violated the maritime border off the west coast of the peninsula, the Telegraph reported.
The South Korean Navy had to broadcast radio warnings and fire series of warning shots before the North's ships withdrew.
Although such small incidences wouldn't be enough to divert much attention, the almost-certain nuclear test that is being prepared by North Korea would significantly escalate the already tense situation in the region.
Earlier a spokesman for the South Korean Defense Ministry confirmed that North had completed all preparation for a new test at its nuclear testing site in the north-east of its country.
"With all preparations done, it is only a matter of a political decision and strategic judgment for the North Korean leadership to conduct a nuclear test," Kim Min-Seok said at a press conference in Seoul.
While Obama offered a semblance of warning over the apparent test before leaving Japan, it can't be said with certainty whether that will help dodge Pyongyang into progressive action, or whether it will further aggravate the regime.
"North Korea has engaged in provocative actions for the last several decades," the president said in Tokyo. "It has been an irresponsible actor on the international stage for the last several decades.
"They are the most isolated country in the world. They are subject to more international sanctions and international condemnation than any country in the world," he said adding: "And what we've said is if you are, in fact, serious about North Korea being a normal nation, then you've got to start changing your behavior. And that starts with the basic principle of denuclearizing the Korean Peninsula."
[ED:VS]