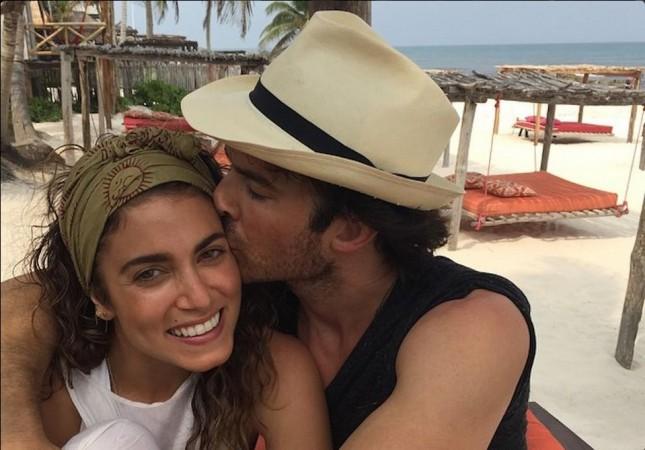 Nina Dobrev is attempting to move on in life after quitting her "The Vampire Diaries" role as Elena Gilbert and keeping away from all the drama surrounding her relationship with ex-boyfriend Ian Somerhalder.
The 26-year-old actress has a new man in her life, "Whiplash" actor Austin Stowell, and their relationship is said to be getting serious with each passing day.
Somerhalder, in the meantime, is happily married to "Twilight" actress Nikki Reed, and photos of them together suggest that the duo is still in their honeymoon phase. Dobrev even spoke about Somerhalder's marriage, saying she was happy for her ex boyfriend, and that he wasn't responsible for her leaving the show.
"When I heard about the wedding, I thought it was beautiful," the 26 actress told E!Online. "They look happy and I am happy and so I don't see why there should be a problem with that."
However, curiosity regarding Somerhalder and Reed's relationship with Dobrev has refused to die down, with many fans noting that there's still bad blood between Dobrev and Reed, who were friends Somerhalder and Reed started dating.
The two starred together in a PSA for health insurance last year.
Earlier this year, an insider told HollywoodLife that Reed wanted to mend her relationship with "The Vampire Diaries" actress. She "has no bad blood for Nina. She would love if they could all be friends again," said the insider, adding that "she and Nina used to be so close and Nikki has told lots of people that she would love to get back to that place with her."
But the actresses are yet to rekindle their relationship, despite everyone involved saying there was no bad blood.
Recently, Reed had to face a lot of negativity from Dobrev fans when it came to light that Somerhalder has unfollowed Dobrev on Twitter. They believe Reed forced Somerhalder to unfollow Dobrev, as she was an "insecure wife."
Reed was also targeted after she allegedly liked an Instagram post saying Dobrev wasn't suited for Somerhalder.
WHY WOULD NIKKI REED LIKE THIS MEAN INSTAGRAM POST ABOUT NINA R U INSECURE pic.twitter.com/6hyOZQXxPL

— Kaitlyn (@Mystictheo) June 18, 2015