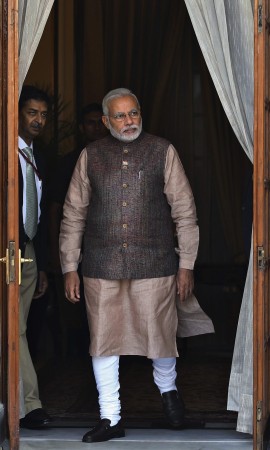 As the United States has expanded its attack on the Islamic State by conducting airstrikes in Syria since Monday, it is also looking to expand its global coalition against the terror group, and Prime Minister Narendra Modi may be asked for India's support in the mission.
At present, more than 40 countries have partnered with the United States in its campaign to 'degrade and destroy' the Islamic State, formerly known as the Islamic State of Iraq and Syria (ISIS).
After a month of American jets striking at ISIS targets in Iraq, on Monday, US and its allies, reportedly Saudi Arabia and Jordan, began targeting the group in Syria, and 120 militants have reportedly been killed so far in the airstrikes.
As the Middle East terror issue dominates global politics, officials believe that it will definitely come up for discussion when Modi meets US President Barack Obama, first at the White House on 29 September and at the Oval Office the next day.
Some insiders believe that the latter will also seek India's support in the anti-terror campaign, as reported by Press Trust of India.
The White House, however, has refused to make any comments on the topics of discussion between Obama and Modi.
"As we've said, we believe there is a role for all countries to play. Beyond that, I'm not in position to preview the substance of the visit yet," Caitlin Hayden, spokesperson of the National Security Council of the White House was quoted as saying.
Modi is also facing a challenge from terror groups on Indian soil, after al-Qaeda announced its Indian wing, and other ISIS-linked groups have also threatened attacks.