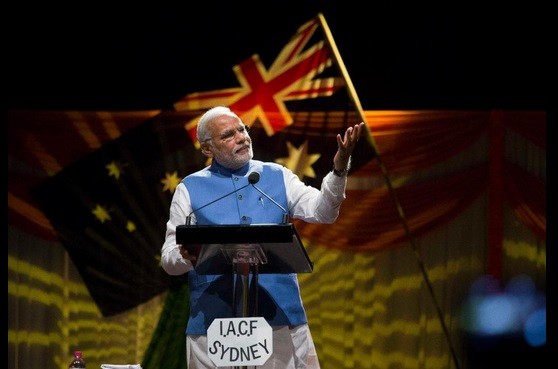 After a glorious debut on the Forbes list of Most Powerful People in the World, Indian Prime Minister Narendra Modi may well be on his way to clinching the most-coveted Time magazine 'Person of the Year' title for 2014.
Having won accolades and 'friends' on each of his foreign trips, the "Rock Star" Prime Minister was "once a controversial regional leader", who rose to become the country's PM after a landslide victory in the Lok Sabha elections, the magazine said about Modi.
World's Most Powerful People: Rockstar Modi Debuts at 15th on Forbes List
The Indian PM figures among 50 global political leaders, pop icons and business tycoons named as contenders by Time for its annual 'Person of the Year' honour, which will be announced on 10 December. The title will be "bestowed on those who have, for good or for ill, most influenced the news and our lives in the past year", said the magazine, reports Zee News.
As of now, Modi ranks second in the list of readers choice with 3.8% votes, with Russian President Vladimir Putin topping the list.
Other political heavyweights contending for the title are: Iran's Supreme Leader Ayatollah Khamenei, Israeli PM Benjamin Netanyahu and Chinese President Xi Jinping.
Interestingly, US Secretary of State John Kerry has left his boss President Barack Obama trailing in the poll so far.
Influential business personalities like Amazon CEO Jeff Bezos, Chinese e-commerce site Alibaba founder Jack Ma, auto major GM's first female CEO Mary Barra, and Apple CEO Tim Cook too appear on the 50-strong list.
Among the groups and individuals making waves for their humanitarian deeds were doctors and health workers fighting the deadly Ebola outbreak, who stood third on the list. Nobel Peace prize winner Malala Yousafzai and last year's 'Person of the Year' Pope Francis have taken the fourth and fifth positions, respectively.
Singers Beyonce, Taylor Swift, reality star Kim Kardashian who 'broke the internet' with her bare behind too figure on the list.
Not to forget, the 200 Nigerian girls kidnapped by Islamist militant group Boko Haram also feature on the list along with ISIS chief Abu Bakr al-Baghdadi.
Time magazine has sought the readers' votes for the title of 'Person of the Year' and the winner of the readers' choice poll will be announced next month. Voting for the readers' poll closes at 11:59 pm on 6 December, and the winner will be announced on 8 December.