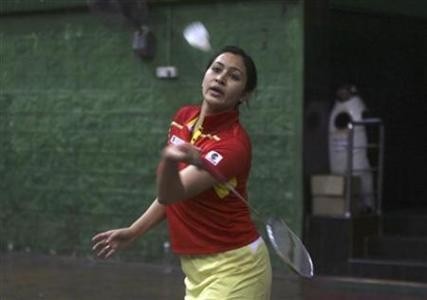 In a surprise move, disciplinary committee of Badminton Association of India (BAI) has recommended life ban for Indian doubles shuttler Jwala Gutta over allegation that she tried to stop some players of Krrish Delhi Smashers from playing against Banga Beats in the recently ended Indian Badminton League (IBL).
The Krrish Delhi Smashers captain was accused of disrupting one of the matches in the IBL, leading to a delay by half an hour. The Delhi franchise threatened to pull out of the tournament after Hu Yun was replaced by Jan Jorgensen due to an injury.
"The disciplinary committee has recommended a life ban or suspension for a certain period of time on Jwala Gutta for her role in the IBL controversy," a senior BAI official told Press Trust of India (PTI). "The recommendation has been circulated to the member associations but no decision has been taken as of now. It has not been implemented."
However, chairman of BAI's disciplinary committee S. Muralidharan has hinted that Jwala Gutta could be left free if she apologises for the act.
"I don't want to talk about it much. It is the discretion of BAI president Akhilesh Das Gupta and on an unconditional apology, Jwala can be set free. But she should feel apologetic for what happened," Muralidharan told PTI.
The IBL match between Krrish Delhi Smashers and Banga Beats was delayed by half an hour after the latter protested the latter's replacement of Hu Yun with Jan Jorgensen at the last moment. The game resumed only after Banga Beats made Arvind Bhat to play. Krrish Delhi Smashers won the contest 4-1.
BAI had served a 14-day show-cause notice to Jwala Gutta for the fracas though she claimed that it was the decision of Delhi franchise.