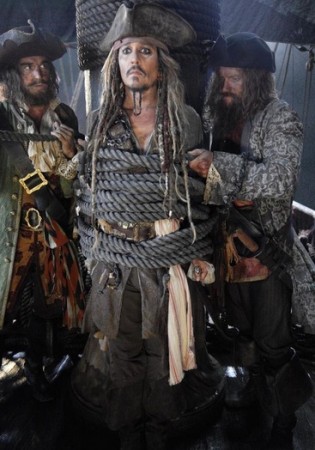 Johnny Depp has landed in serious legal soup for smuggling his two pet dogs into Australia last month. The actor could now be facing a possible 10-year imprisonment in the country.
The actor and his wife Amber Heard are accused of failing to declare their pooches, Pistol and Boo, to customs officials when Depp headed back to work on the sets of the latest "Pirates of the Caribbean" sequel.
According to the Sydney Morning Herald, the couple didn't even follow through with proper quarantine procedures upon their arrival Down Under in late April.
The website reported that an Australian Senate committee was told on Monday that if the matter goes to court and the "Pirates of the Caribbean" star is found guilty, he could face up to 10 years in jail or a maximum fine of $265,000.
"His actions became the top topic at a Senate Committee hearing in Canberra on Monday, as government officials discussed the severity of the crime. Agriculture Department representatives were grilled by senators for 40 minutes as part of the investigation, during which officials agreed the matter is "very serious" and confirmed the actor could face jail time or a hefty fine," the report said.
It further stated that an ongoing investigation found that Depp, his fellow passengers and the flight crew didn't declare the dogs' presence, and they were "only discovered after the pups were taken to a local groomer and photos were posted on social media."
It was after this that Australia's Agriculture Minister Barnaby Joyce demanded Depp and Heard fly the pets out of the country by 16 May, or face having the Yorkshire Terriers euthanised. The couple obeyed the orders and the dogs were subsequently put on a flight back to the US.
Now the big question is will Johnny Depp serve the punishment by paying the hefty fine or by going to jail for 10 long years?